Darrin DeRosa
Darrin DeRosa carries on a tradition of excellence at Cedar House Restaurant & Chalets near Golden, B.C.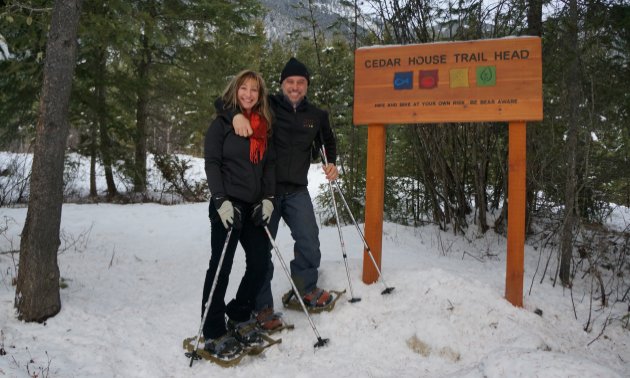 Imagine having no restaurant experience and taking on the ownership and management of one of the 50 top-ranked restaurants in Canada. Darrin DeRosa did just that in 2008, and has managed to keep Cedar House Restaurant, located five minutes south of Golden, in that elite company for the past five years.
There was quiet pride and satisfaction in DeRosa's voice when he spoke of his career before he came to Cedar House Restaurant & Chalets. His non-profit organization, Adventure Realm Canada Outdoor Centre, taught young people independence and survival skills. He also worked with the outdoor program in Kananaskis for the Tim Hortons Foundation and as an instructor for Outward Bound.
Adding to the challenge
DeRosa acknowledged that learning to run a high-end restaurant was a challenge, but having spent the two previous years managing Purcell Mountain Lodge under the exacting leadership of Paul Leeson, he was accustomed to high standards.
While busy learning the restaurant business, DeRosa was also designing and building beautiful chalet-style accommodation units to add to the original one unit available.
"I wanted to give people a wow-factor place to stay, right next to this high-ranked restaurant," DeRosa said. "At first I was putting in 15- to 18-hour days doing everything: setting tables, cleaning, doing laundry, shuttling guests to the ski hill. Nowadays, I'm working more behind the scenes."
That wow factor is certainly present. At last count there are seven chalets for guests, and the accommodation has racked up accolades and awards from TripAdvisor, Air Canada and the Kicking Horse Country Chamber of Commerce.
Policies that work
Besides his own hard work, DeRosa's success is likely the result of his policy of putting his staff first—even before his customers—and his emphasis on an immaculately clean facility. DeRosa said he appreciates the pride that the staff take in the operation—it's more than a place to pick up a paycheque.
"We take a bit longer to do the cleaning and we pay extra attention to other details, and it's paying off," said DeRosa. "People are coming for longer stays and finding we have a lot to offer."
On a personal level, DeRosa is looking forward to a deepening relationship and a rich future with his fiancée, Tracy Prather. He also loves the outdoors—skiing, mountaineering and the like.
"I'd like to see this become a destination resort," he said. "At some point I'd love to see us have a small conference centre here with hotel-style rental units to accommodate larger groups and functions. We're on 10 acres, so we have the space for it."