Danny Rickaby
An exemplary work ethic, straightforward communication and an innovative spirit were typical of Danny Rickaby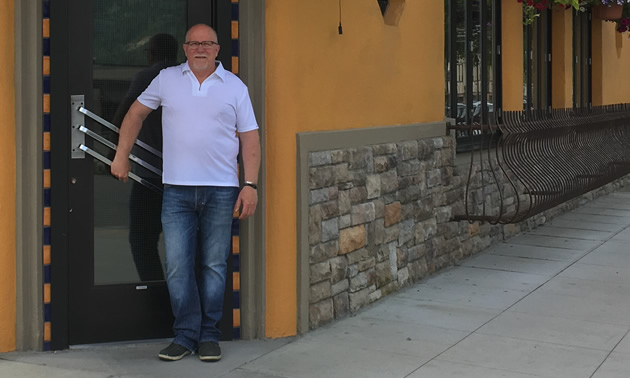 In posthumous recognition of Danny Rickaby's years of influence and support for the business community in Nelson, Kootenay Business magazine includes him on its list of Top 10 Kootenay business people. At the time of his sudden passing in early 2017, Rickaby was the managing partner of the Adventure Hotel in Nelson.
Rob Little, who was hired by Rickaby in 2009, is now the general manager of the Adventure Hotel. We asked Little to share some of his memories and impressions of his former employer.
"Danny was a visionary," Little said. "More than anything else, he could see possibilities; he could see what things could become. He had great instincts and he was a man of integrity, in business and in his family life. It was important to him to be a good corporate citizen—he took pride in paying his bills on time and he was willing to do any job that needed to be done."
Little described Rickaby as hard-working and always moving, and as someone who believed that everyone knows the difference between right and wrong.
Echoing Rickaby's philosophy, Little said, "At the end of the day, whether you can sleep peacefully at night depends on the decisions that you make. If it doesn't feel right, it probably isn't.
"Danny believed in action. He believed in making decisions, trying new things and moving forward. If the direction sometimes turned out to be wrong, then he'd change it. Danny's leadership style was direct. You always knew where you stood with him. For some people that could be difficult, because he never sugar-coated anything."
Little laughed as he remembered Rickaby grumbling good-naturedly about Nelson's winters.
"One thing he did that he always complained about but actually loved doing," Little said, "was getting out on the quad and plowing snow around the hotel. He'd do it all winter and complain about it, with a big smile on his face the whole time. He could have delegated the work, but he never did.
"The biggest piece of advice I would say Danny imparted to me," Little said, "was that as stressful as the hospitality business can be, always remember to have a giggle. Take pride in your work and take it seriously, but remember that when things are difficult, they're never as bad as they seem. It's the relationships you cultivate along the way that will make all the work worthwhile."