Chad Jensen
For over 30 years, New Dawn Developments has been at home in the Kootenays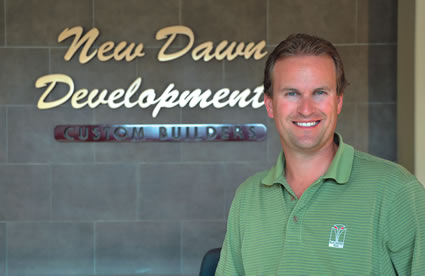 In 2009, most of the news about the economic downturn started with the slowdown of residential developments and housing starts. While that may have been an industry-wide trend, New Dawn Developments in Cranbrook was going strong.
"Part of our success has been flexibility," said Chad Jensen, the president of New Dawn since 1994, "going where the work was and taking the opportunities when they were presented."
New Dawn is a family business—Chad is following in the footsteps of his father, Rick, who started the company with his wife, Marg, in 1978, and who remains chair, while Chad's sister, Leanne, acts as Rick's assistant. Under Chad's leadership, the company shifted its focus from land development to single- and multi-family housing in 1998, when New Dawn was awarded a contract to develop Fernie's Thunder Ridge Chalets.
"That was the start of our big growth," said Chad.
New Dawn has garnered accolades for its work, including several Best of Business awards from Kootenay Business and 2008 Contractor of the Year in Kimberley. The greatest reward for Chad, though, is when he or Rick personally hands over the keys to a client at the completion of a contract.
"We care about our clients and build houses as if they were our own homes," said Chad.