Cathy and Nico Tsanulas
Cathy and Nico Tsanulas have made a name for themselves in Golden by serving up delicious food—and lots of it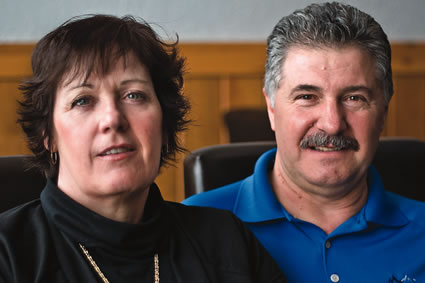 Cathy and Nico Tsanulas were able to realize a dream recently when they purchased the property in which their restaurant, Apostoles, is located. Prior to that, they had operated restaurants in town in leased spaces, and Cathy said the move has allowed them to create the kind of business they have always wanted.
"It's been a great experience renovating and getting it open," she said. "It's the best restaurant we've ever had."
Both Cathy and Nico are lifelong restaurateurs who have worked almost every facet of the business. Cathy has served, bartended, managed staff—and everything in between. Nico is the chef, and Cathy insists that steak lovers will be hard pressed to find a better meal. In the last number of years, the Tsanulases have returned to Nico's heritage and started to focus more on Greek food, and the move has proven popular with tourists and locals.
"He's developed his own style and it's just good food," said Cathy. "And lots of it—he's Greek, so he can't serve a plate unless it's overflowing."
Cathy's business philosophy is simple: always keep learning.
"In all the years of business, you keep trying to improve," she said.