Aaron Davidson
This Revelstoke, B.C.-based company has a winning mobile app for nutrition and exercise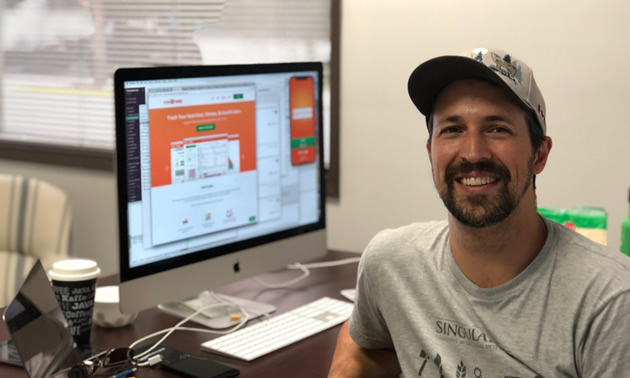 Create a wearable nutrition and fitness app, and have the world knocking at your website. That describes the success of Revelstoke entrepreneur Aaron Davidson, founder of Cronometer Software Inc.
This world-class app took years of hard work to build, but the payoff is worth it—Davidson is now living the dream. He promotes a healthy lifestyle and lives it with his team of techies. In a ski town-based business, flexible work schedules are imperative. As Cronometer's website says, "Chairlift meetings are a thing, right?"
With Cronometer's mobile app, you track your nutrition, exercise and other health data on the go. Over 60 nutrients and 200,000 foods are included.
Davidson was the sole founder of the company in 2011, but now he has several partners in a business with over $1 million in sales last year and growing fast. He describes his interests and his successful business for Kootenay Business as one of our Top 10 Business People for 2019. Congratulations, Aaron!
What got you interested in nutrition and healthy lifestyles?
I've always wanted to live a long and healthy life, so good nutrition and a healthy lifestyle are mandatory!
Who are your main consumers?
We cater to people who want a very detailed picture of nutrition. So while we get used by lots of regular folk looking to lose some weight, we really appeal to more serious users like dieticians, people managing medical issues, athletes and nutrition enthusiasts.
Please describe the growth of your company.
We started fully bootstrapped as a tiny hobby business in 2011, and from that small seed, it has grown every year since. I hired our first employee in 2016 and personally went full time in 2017. We doubled our staff last year and are now at 17 and counting. We surpassed $1 million in revenue in 2018, and we've got a good chance at passing $2 million this year.
What trends do you see in the healthy lifestyles industry?
Two huge trends in diets the last few years are the ketogenic diet and veganism. Wearables and software tools are still growing in usage and becoming more mainstream.
What are you most excited about in terms of the future of Cronometer?
I'm really focused on continuing to make the product better and better every day, and to continue scaling up and building a great company with my ideal culture and work environment.
What is your superpower?
Nothing special here, just perseverance! I'm good at grinding through work and getting things done.