Revelstoke Chamber of Commerce awards are truly unique for 2019
These Revelstoke businesses are funky, unique and successful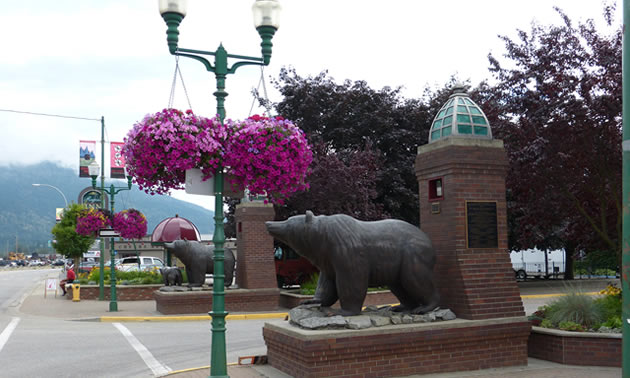 I vote to give the Revelstoke Chamber of Commerce an award for the most amazing list of funky and truly unique Kootenay businesses to celebrate.
The chamber handed out 13 awards at its annual Business Excellence Awards ceremony on November 2, 2019. It's quite a list!
Congratulations to the following winners:
Entrepreneurial Excellence: Peak Axe Throwing
If you haven't yet tried recreational axe throwing, Peak Axe Throwing promises memorable experiences.There's a red bullseye painted on a thick slab of tree trunk. You stand at the other end of an alley with a hatchet weighing about 680 grams (24 ounces). Fortunately, you are given instructions and safety training by coaches.
Business Person of the Year: Diane Bull of Style Trend Clothiers
Diane Bull runs an adorable little shop called Style Trend Clothiers. But staying current with the times, she has made the brand into an online destination. With a great selection of men's and women's clothing and accessories, the company has something for everybody and carries a large selection of great brands.
.
Business of the Year: Southside Market
Chris Lee and Michelle Tran moved from Toronto to start their new adventure as owners of this full-service grocery in 2016. But the market goes back to its beginnings in 1977. Remember Southside Market for specialty platters and gift baskets.
Employee of the Year: Christy Mele of Selkirk Dental Clinic
Christy Mele is a certified dental assistant at the Selkirk Dental Clinic. Mele must be the type of dental assistant we all look for: gentle but thorough and not expecting answers to questions when our mouths are full of dental equipment.
Accommodations Excellence: Valley Retreat Bed and Breakfast
The Valley Retreat is a modern seven-room B&B with a fabulous location: two minutes to the Revelstoke Mountain Resort and five minutes to the city centre. Plus, there's convenient storage for your bike, board or skis and a hot tub to soak in after you're done playing outside.
Food Service Excellence: Taco Club
Described as a vibrant venue for Latin street food, Taco Club serves seasonal tacos, burritos, enchiladas and tequila drinks. Started from a retrofitted old Canada Post van in 2012, the business moved inside in 2015 to give their loyal customers a place to eat in warmth and comfort.
Tourism and Attractions Excellence: Track Street Garlic Festival
The Track Street Garlic Festival is an annual event devoted to sharing the harvest and love of locally produced food. It also serves as a fundraiser for the Revelstoke Local Food Initiative and the North Columbia Environmental Society. The festival includes local food vendors, music and entertainment for the kids.
Retail and Service Excellence: Universal Footwear
Universal footwear is a family-owned and -operated, independent shoe store that has been a part of the community for almost 40 years. The store carries footwear for every lifestyle and adventure. A second generation now runs the shop, and best of all—it offers repairs!
Industrial and Manufacturing Excellence: Shade Sails Canada
A 20-year-old locally owned business, Shade Sails Canada just appeared on Dragons' Den and sailed away with an investor and several customers. The company manufactures outdoor shades that are attractive, colourful, durable and, most importantly, practical. The high-quality shades protect us from UV light and are instilled in locations such as playgrounds, water parks and our backyard patios.
Home-Based Business Excellence: Backyard Boro
Backyard Boro designs eco-friendly products with sustainability at the heart of all manufacturing decisions. For example, some of the upcycled clothing is made from retired denim or dress shirts. The eco-friendly cosmetics like deodorants are inspired by a "microbiome obsession." Locally sourced plants are used for dyes.
Community Support Excellence: Revelstoke Local Food Initiative
The Revelstoke Local Food Initiative cultivates a vibrant and resilient local food system, thus promoting food security. The non-profit runs many programs and events, including the local farmers market, a community garden and educational workshops, hence the award for its excellent community support.
Youth Employer: The Popcycle
The Popcycle is a mobile vending trike that sells gourmet ice pops made with natural ingredients. There are 29 flavours and counting of the hand-crafted popsicles. Owner Lucie Robidoux hires energetic youth, ages 12 to 15 years old, to power the Popcycle.
Best New or Renovated Building Design: Tree Construction for the Tantrum building
The Tantrum building is Revelstoke's first commercial building meeting the Passive House standard. Named after one of its tenants, the Tantrum Ride Company, the building was constructed by Tree Construction. Owned by Greg Hill, Tree Construction focuses almost exclusively on the Passive House standard.