Entrepreneur Chandler Lang in Revelstoke has big plans for his small-town delivery service
This all-purpose delivery service might show up in a community near you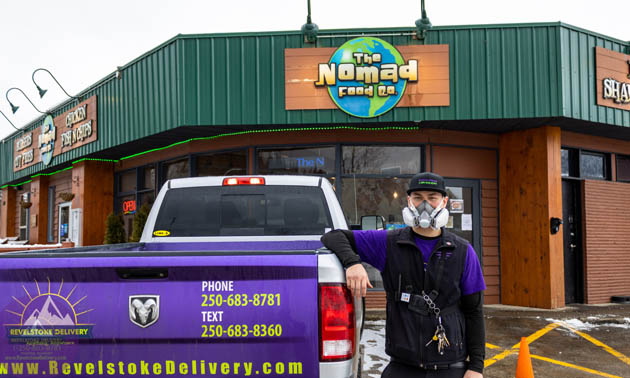 Imagine 800 to 1,000 deliveries per month. Or 100 deliveries on Valentine's Day.
Chandler Lang and his mother, Preston Lang, started Revelstoke Delivery in 2019. But don't just picture DoorDash dropping off dinner. This highly successful business delivers "Anything, Anywhere" using its own high-tech platform, and its owners have national aspirations.
Delivery services can include everything from groceries, meals, snacks to prescriptions or vehicles. They also offer moving, storage and recovery services, and they will haul away junk and recycling.
"We don't just work with food-based locations," Chandler said. "We do last-mile fulfillment for local shops too."
The company even caught the attention of the Revelstoke Chamber of Commerce, which gave Revelstoke Delivery one of its Business Excellence Awards: the 2020 Entrepreneurial Excellence award.
KootenayBiz caught up with Chandler, a twentysomething busy entrepreneur, and he told us his story.
How did Revelstoke Delivery begin?
I started Revelstoke Delivery as a business me and my mother could run together.
Our business is a new type of multi-stream logistics business integrated with a platform I designed myself, similar to SkipTheDishes or Uber except it's for everything. Our tech even tells the restaurants what to make and our drivers when to get it!
Our service region is national, as in we will deliver to Ontario if required. But our primary operating region is Revelstoke and the surrounding province of B.C. For example, in B.C. alone we traveled the circumference of the earth twice in 2020.
We do have national aspirations. We currently have two full-time contractors and two more auxiliary ones for rush hours with additional ones we have on board for long hauls. We also have a 2,000-square-foot warehousing location.
How much of your business is food?
I'd say food is about 50 per cent of our total growth.
Restaurants we work with under service agreements are The Nomad Food Co., Frisby Ridge Sushi, Rockford Bar & Grill, Padrino's Pizzeria and Killa B's Grilla Cheese.
But we will pick up from any location in town even if they have their own delivery driver. A lot of the time, they can't keep up and need more help covering overflow.
We also have a local corner store we partner with for our digital corner store on our website.
What are the most common reasons people use a delivery service and how has the COVID-19 pandemic impacted business?
The three most common reasons people want delivery are:
clients don't want to go out themselves after a long day or because of the weather
clients need quarantine and isolation supplies
clients never had a service like this before and they want to try it
I think the demand will continue to grow. Our business was already picking up before the pandemic, and we never planned our growth around it obviously. That being said, I think the pandemic if anything has made people look for delivery more than they normally would and that in turn has increased our demand.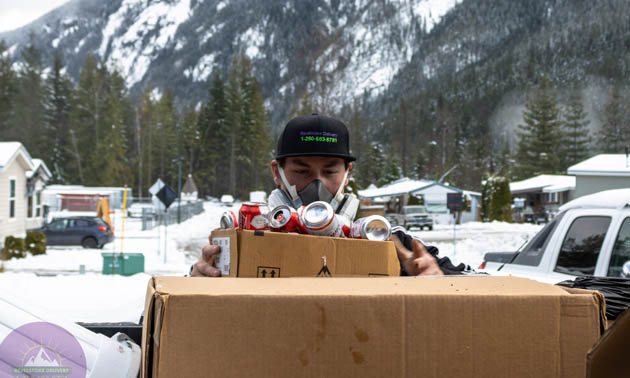 What does delivery cost and what would you say to folks hesitant to try it?
Delivery costs are:
$7.50 to all in-town locations
$9.50 to the ski hill
$11.00 for out-of-town locations
Some of our services can reach upwards of $3,000 or more, depending on what the client requires if it's a move or a major client looking to make a deal for a prolonged service agreement.
To anyone hesitant to use the service, I'd say give it try and I think you will be very happy. We are raising the bar locally to big-city standards for technology and customer service.
What is your background and how did it prepare you to start your own business?
I grew up in Vancouver and ended up traveling and living in almost every province in Canada. I lived down in Mexico and traveled a lot as a kid through the U.S. Eventually we settled in little Revelstoke due to its unique qualities.
I was a roofer, prep cook, and cuberman for the lumber industry. I got into graphic and website design when I was in my teens and started my first business when I was 18—a multimedia production company. After my first taste of business, I was hooked and I started my lifelong journey as an entrepreneur.
What do you enjoy most about your work and what does the future hold?
I personally enjoy the helping aspect most, interacting with the community and all the people. The best part is when I come home to a card from a random person saying how they really appreciate what we are trying to do for our community. It's a great feeling I use to fuel me to continue to build up my business for my community.
Keep an eye out for when we spring up in your small town!