Tiny houses in the Kootenays: Rent, buy or build
Less materialism, more experiences, increased affordability, ease of mobility—there are many reasons for tiny home living.
by Virginia Rasch and Julie Matchett
—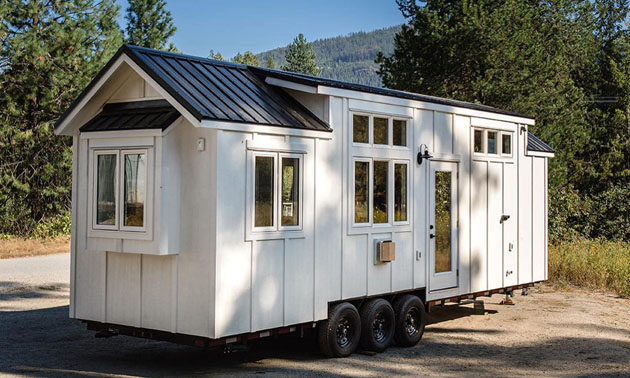 Tiny houses are part of a growing lifestyle. We all can't afford—nor desire—large houses, huge mortgages and high taxes and energy bills. Minimalism and living simply are the new black. Less is more.
What is the appeal of this lifestyle? Living with less gives you more freedom. Not only does it free up time, money and resources, but it also allows you to feel more free. Lots of "stuff" weighs you down. This lifestyle is more about experiences than about material belongings.
Another appeal of the tiny house lifestyle is that some tiny homes are mobile. Thus, it's easy to move.
Although tiny homes vary a great deal in price, many are part of the solution to create more affordable housing. If you want to save a lot of money, then build your own tiny house. There are many floor plans and designs available.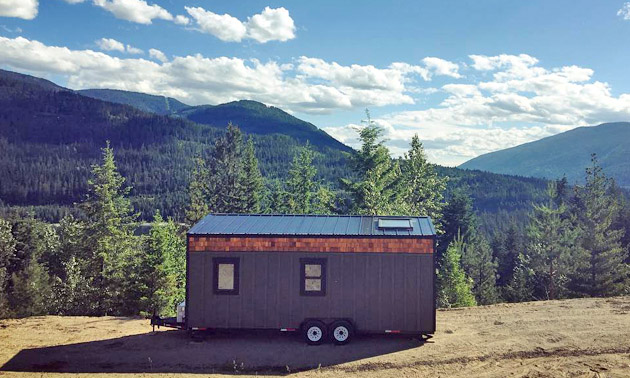 What exactly defines a tiny house?
The definition of a tiny house varies, but here's one example: a tiny home is under 500 square feet with the amenities of a permanent home.
Whether you buy or build a tiny house, be sure to check local zoning bylaws and be sure your new home is built to code. Zoning bylaws can limit the height, square footage and acceptable features of a house. Many cities have bylaws and other policies that relate to tiny homes. Some laws require that a "home" must be a minimum 400 square feet in size.
Rural living generally has fewer restrictions.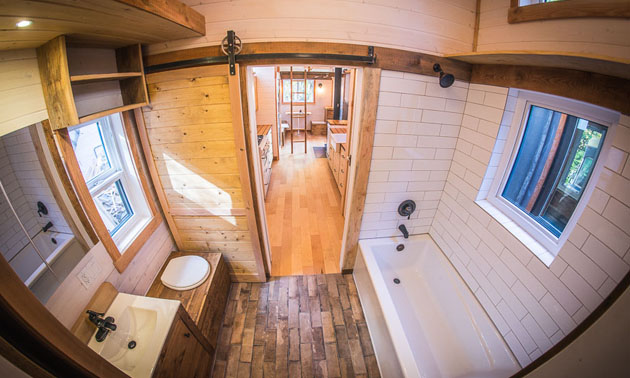 How is a tiny house different from an RV?
RVing is a popular pastime for many Canadians. Some RVers sell their homes and live on the road for an extended period of time. This type of RVing might make you wonder how a tiny house on wheels is different from an RV.
Tiny houses are different from RVs in several ways:
RVs are generally built for mild climates and warmer weather, such as summers in Canada or snowbird destinations like Arizona in the winter. Tiny homes are built for all-season living, so they are both warmer and cooler than RVs are.
RVs come in many styles, but tiny houses can be built and customized to an owner's wants and needs. They generally have a more "homey" atmosphere and feel more like a traditional home than an RV does.
Tiny homes can be built to have small environmental footprints. They can be solar-powered and include composting toilets and rainwater collection systems. They can be built with natural components. RVs generally have more plastic and petrochemical components.
Many options for tiny houses in the Kootenays
Here in the Kootenays, we have several tiny house manufacturers as well as tiny houses for rent. If you are considering living in a tiny house, it makes sense to rent one first before you buy or have one built.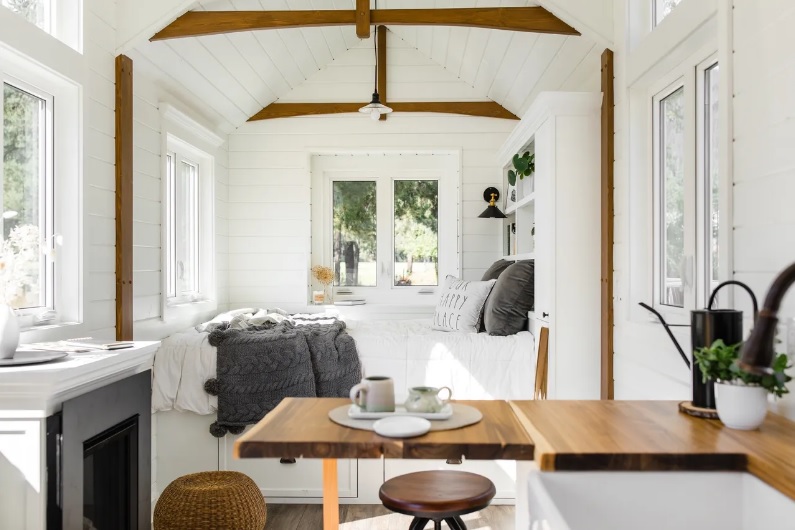 Here is a list of manufacturers of tiny houses in the Kootenays:
Canadian Tiny Homes: A talented father-and-daughter duo are behind the custom tiny homes manufactured by this company. Based in Nelson, Canadian Tiny Homes offers base model homes that can be customized to your specific needs, as well as partially completed tiny home shells. They partner with local designers to create innovative and livable modern spaces that will complement a variety of different lifestyles. Completed tiny homes can be delivered to locations across Canada and the U.S.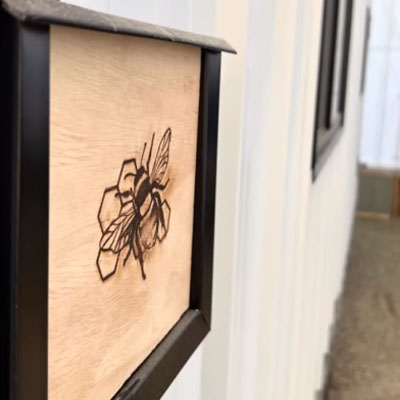 Humble Bee Builds: Humble Bee Builds is a company built on passion and a love for alternative living. Based in Cranbrook, the company strongly believes that tiny-home living doesn't mean having to sacrifice comfort. Building sustainability into their homes is a very important aspect of their business and they strive to use local supply manufacturers as much as possible. Clients are free to customize their tiny home to their liking, including choosing all finishes, appliances, cabinet styles and more.
Hummingbird Micro Homes: Based in Fernie, Hummingbird Micro Homes specializes in creating custom-built homes on wheels. They offer a variety of different designs and build micro homes in sizes ranging from 16 to 34 feet long. Built for the harsh Canadian climate, the homes are fully-insulated for year-round living and come equipped with standard appliances, including a mini-refrigerator, electric or propane stove-top, and electric heater.
Nelson Tiny Houses: Focusing on highly-customized, sustainable homes, this family-run company produces four or five tiny homes per year. A unique, personalized and finely-crafted home is the end goal, and they work with clients closely to ensure satisfaction. Nelson Tiny Houses come in two different styles: the Acorn house and the V-house. The former choice features a gable-style roof, while the V-house has a single-pitch roof. Sizes range from 16 up to 46 feet long.
Newhouse Micro Homes: Located in the Columbia Valley, Newhouse Micro Homes is owned by semi-retired building contractor Chuck Newhouse. After becoming interested in tiny homes, he decided to try his hand at building one himself and became hooked. His signature build is The Mount Nelson, a luxury park model micro home that includes features such as heated tile floors and a gas fireplace. Read our story about Newhouse and his tiny home sideline business.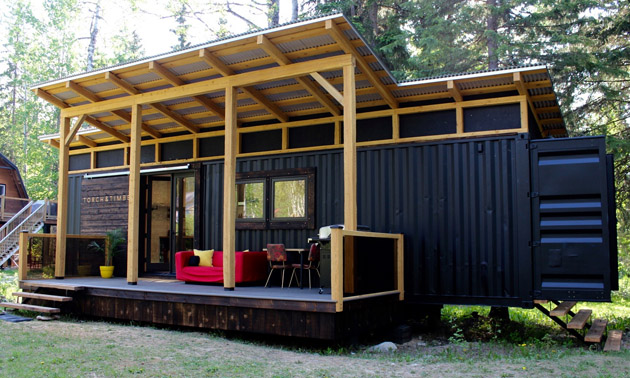 Torch & Timber Tiny Homes: Masters of contemporary container living, Torch & Timber Tiny Homes in Golden creates modern living spaces by utilizing sea-can shipping containers. These modular tiny home units are available in 20 and 40 foot lengths and offer a huge range of customizable style options, including lighting, cabinetry, countertops and exterior finishes. To bump up the eco-friendly aspect of these unique homes, there are also off-grid options available such as solar power and incineration toilets.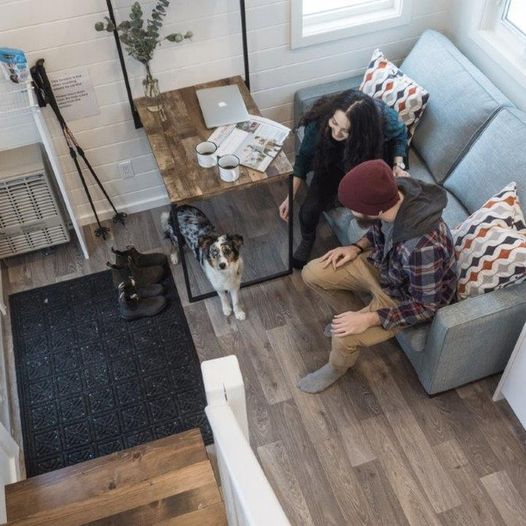 Tiny houses for rent in the Kootenays:
Airbnb: If you're contemplating a move into tiny home living full-time, it makes sense to scope out what that experience might look and feel like. Or maybe you're just looking for a unique and novel twist on accommodations. Whatever the reason for your interest in tiny homes, Airbnb offers a wealth of rental options across the Kootenays. Find modern and eclectic tiny home getaways, homes that are located adjacent to ski hills and recreation, and even a tiny home that is reputedly haunted! A tip for searching out tiny home rentals on Airbnb: under "filters" you can specify the type of unique stay you're looking for by checking the "tiny home" box.
Snow Valley Lodging: Located close to downtown Fernie and its vibrant shopping and nightlife, Snow Valley Lodging offers a choice of six uniquely-styled tiny homes to choose from. Each tiny home features modern amenities like a comfortable queen-size bed, a TV and a fully-equipped kitchen. Snow Valley even recognizes that our four-legged friends are part of the family by offering dog-friendly tiny homes. Did you know Snow Valley Lodging was the first tiny home hotel in Canada? Read our story about this award-winning accommodator.