Kootenay Landscape: from sideline to success
Mowing lawns for extra money started Dwayne and Colette Thompson on the path to a successful landscaping business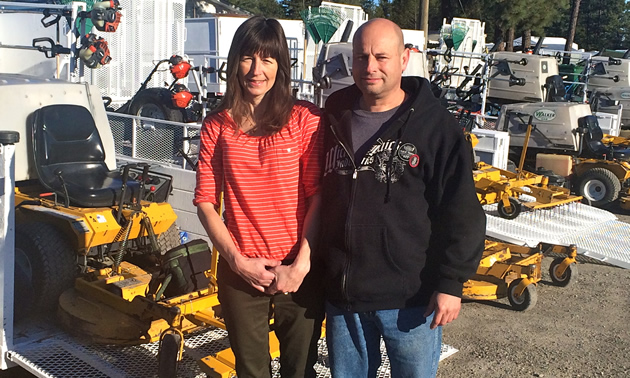 Kootenay Landscape of Cranbrook, B.C., has its roots in Calgary, Alberta. Way back in 1991, when Colette and Dwayne Thompson were living in Calgary, Colette worked full-time in administration and sales for Loewen Windows and Dwayne was production shop manager for an engine shop. They decided to take on some extra work in order to save money to buy a house, and the two started a small lawn-mowing venture in the evenings.
"That little business grew," said Dwayne. "We hired some friends to help us and then we bought out another company, and the business grew some more to a full-time effort."
In 1998 the Thompsons moved to Cranbrook and joined forces with family members, together building a full-service landscape construction, supply and snow removal operation. As those family members transitioned into retirement and other ventures, Kootenay Landscape transitioned as well, and is now focused on landscape maintenance and snow removal.
Kootenay Landscape employs 15 to 20 highly trained and certified turf management technicians, plant care specialists, weed and pest control applicators, irrigation technicians and arborists. The company offers full-service lawn, landscape, shrub and tree care along with hydroseeding and irrigation installation and service. They are also adding gravel dust control to their services this year. Most of their clients are commercial properties in Creston, Cranbrook, Fernie, Invermere and Radium, and they also care for residential properties.
Kootenay Landscape maintains the lawns, shrub beds and trees for Willowbrook Estates, Terra Lee Estates, SuperStore, Home Depot, Safeway and Save-On-Foods in Cranbrook, among others.