Flooring since 1984
Their exceptional products and customer service have kept Ellen and Randy Samuelson in business for 30 years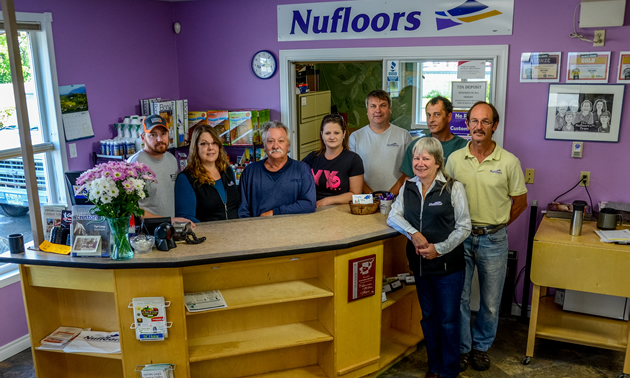 Randy and Ellen Samuelson of Creston, B.C., opened their home decor store, Drapes to Floor You, in 1984. By 1990 the business had outgrown its 500-square-foot premises on Main Street, so the Samuelsons moved the business a bit north along the highway to a larger, rented space. Three years later, after a freak flood ruined much of their merchandise, the couple bought 15 acres across the highway and built a brand new, 5,000-square-foot showroom and retail building.
In 2005, the Samuelsons and their business became part of the Nufloors family.
Randy is a long-time flooring installer and the general manager of the business. Ellen is in charge of the window coverings department and the administration. The two agree that their business longevity is a result of great products followed by smart customer service, and a loyal, hard-working core staff.
Flooring plus
Presently the Nufloors store covers about 7,500 square feet, and the building is being enlarged again. The Samuelsons hope to welcome other home decor or construction businesses to complement their own product lines.
"We want to offer as much as we can to Creston," Ellen said. "We think it's the most beautiful place on earth. We love the climate, the beauty and most of all the people."
As well as flooring and window coverings, Nufloors Creston carries Duradek waterproof decking, aluminum and glass railings and Phantom screens, and is now introducing retractable awnings as well.
"Our product lines have changed over the years, and we're getting more into seasonal products," said Ellen. "We're the floor store and more. People trust us and our staff, and they trust the quality of our products. We appreciate our clients—so many of them have been calling on us for years, every time they have a project. We're really thankful for them."