A career in wood
Fashioning furniture and cabinets from wood is an art, a craft and a livelihood for Bruce Richier of Winlaw, B.C.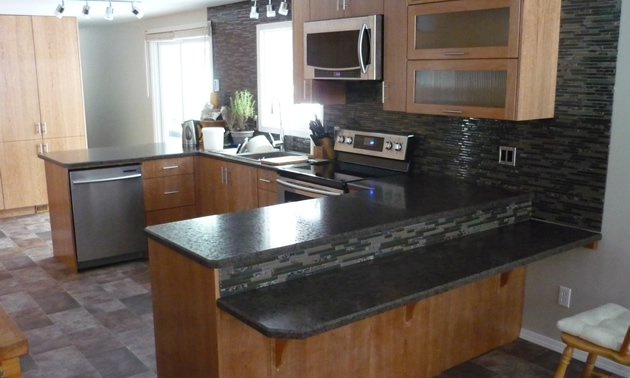 Bruce Richier is a furniture builder and cabinetmaker who has lived and worked in Winlaw, B.C., for 15 years. He is in the process of acquiring a larger workshop in order to increase his output and take on more substantial projects, specifically projects for the commercial market.
Richier graduated from the Fine Woodwork Program at Selkirk College in Nelson, B.C., in 1990. In 1991 he opened his business, Leaf Cabinetry, in Nelson, and in 2000 he moved the business to Winlaw, where shop space is more affordable.
"I'm a one-man show," Richier said. "I mostly do custom cabinet work for residential and commercial projects: kitchen cabinets, bathroom cabinets, reception desks, workstations, store fixtures. I started out doing commercial work in Nelson and I do everything from the design to the installation. Here in the Slocan Valley, I've built a lot of kitchens, but I'd like to do more commercial work."
While Richier does love to build furniture, including original designs and reproductions, the pieces are time-intensive to produce and therefore expensive for the customer. Cabinet-making is where he directs most of his time and talent, and the additional space in his new shop will allow him to hire an assistant and ramp up his production.
Richier buys his cabinet materials in Kelowna and he uses locally sourced wood for furniture pieces. His customers come mostly from Nelson and Castlegar, but hail from other communities in the West Kootenay as well. His best-known commercial projects are the wooden display shelving and cabinetry at Kootenay Co-op in Nelson and the cabinetry and desks at the Nelson Medical Associates Clinic.