Tour the Kootenays in style
Crystal Langford is the proud owner of Kootenay Horse & Carriage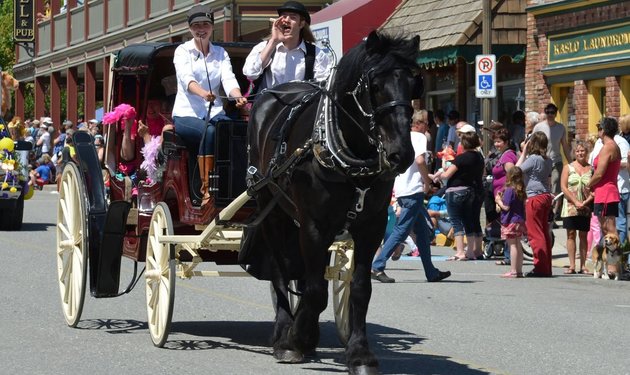 Crystal Langford and her horse, Hero, are excited to show you around. Langford is the sole owner and operator of Kootenay Horse & Carriage, and she took a moment out of her day to answer some questions about her business.
Please tell us a bit about the services you offer.
Our horse-drawn carriage business provides seasonal tours in the Village of Kaslo or the countryside of Harrop, while also catering to private events such as weddings, birthday parties, graduations, festivals and corporate or personal events throughout the entire Kootenay region. Horse-drawn carriage rides are a peaceful, romantic and completely eco-friendly way to take in the many stunning sights of our beautiful area.
What do you feel makes your company stand out?
Our business stands out from other businesses because we are completely mobile, so we can come to you, or you can choose from a historic village tour of Kaslo, or a beautiful countryside tour of the Harrop/Proctor area. What other business lets you interact with a gentle giant who can always bring a smile to your face? Hero is really what makes this experience special, and he's great with kids and the elderly.
What do you like most about working and living in the West Kootenay?
I grew up in Nelson, so I am just grateful to have the opportunity to raise my kids here, and have a job that allows me to constantly be immersed in the beauty of our area.
Is there anything else you would like to tell our readers?
The carriage business is just one of three jobs that I have, but it is the one that fuels my passion in life, and allows me to give my horse Hero the life he needs and deserves. I look forward to every moment that I spend with him. Hero is 2,300 lbs, whereas a normal horse weighs about 1,000 lbs, so I couldn't keep a horse like him if he didn't have a job to do that maintains his muscles to support his weight and joints. He loves socializing with the public, and is never put in a situation that makes him feel uncomfortable. On his time at home, he has another horse and other animals to live with on our 10-acre farm.