Quality creations
Mark Baron offers customized products and exceptional service at Integrated Apparel in Revelstoke, B.C.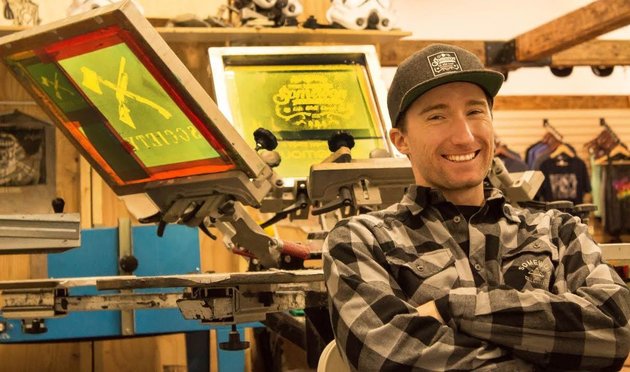 Mark Baron is the sole owner of Integrated Apparel—a blossoming business in Revelstoke, B.C. He opened the store in 2010 and takes pride in helping people create custom products and designs for all purposes. Baron took some time to answer a few questions about his company and the creative options he provides to his customers.
Please tell our readers a bit about the products and services you offer.
We at Integrated Apparel definitely think of ourselves more of a service-based business. We're here to help people and businesses create products and merchandise to promote their groups, teams, events and companies.
We offer screen printing, heat press and embroidery services as well as sticker/banner production in combination with in-house graphic design services. Basically, if you have an idea for some clothing or promotional products, we can produce those for you. We can also help you create something entirely unique for your group, team or business.
A big part of our services are geared to promote brand development. This can be done through custom design, social media and web promotion, creative content and advertising, as well as full merchandise lines and catalogues.
What do you feel makes your company stand out?
I'd say it's the level of service. We're here to produce high-quality products and provide services that people are going to want to use and wear. We're not here to make the cheapest product you can find. If you want the cheapest T-shirt in existence, Google it. There's tonnes of that stuff on the Internet. People and businesses come to us for higher quality products and better service.
We may have a bit of a laid-back style, but we've built a great team and we're committed to providing a high-quality product with professional level service that you'd get from any agency in a major city. The difference is that we're here, and we know the style and trends that are popular here, in the Kootenays. And we know how to get their message out there to their clients.
Little things can make a big difference. Whether it's the type of fabric they're using, where it's sourced from, the colours, the print designs, or even our sales, admin, and creative staff, these pieces should all fit together with our clients to make sure they receive the best project result as possible. We're also (painfully, at times) aware of added costs and inflated prices that can sometimes be incurred while being based deep in the heart of mountains, and we understand that we must make sure our clients' projects are financially successful.
Our motto is "if we can help our clients make money, they'll come back." Being in a small community, you really have to understand that we're taking on this project together. For us, it's not an "us" and "them" approach; we're in it together for the benefit of both parties. I don't think you get that feeling as much when you're working with similar branding and imprinting companies in larger cities. And after all, whether you're a guy walking in off the street to buy one T-shirt, or you're a world-class resort that's buys thousands of pieces per year, you want to feel like your money was well spent.
What do you like most about working and living in Revelstoke?
What I like most about working and living in Revelstoke is just that. We're able to live here and work here. It's tough and not everyone can do it. And it takes a lot of effort, but having the ability to work on and realize your dream job, while living in your dream location, is amazing. To me, that's what life is all about. Everyone has to make decisions and sacrifices in their lives, and I feel really lucky that I've found a place to live that makes me happy that also allows me to have job that I love.
As far as working in Revelstoke, it's the attitude of the people and businesses in the community that make it a great place to work. Many of the people here have a similar attitude and passions to our own. The businesses in Revy are great to work with as well. The people that run them are passionate about being in Revelstoke and I believe our style suits them well.
Contact details:
Location: 308 - 1st Street West, Revelstoke
Website: www.integratedapparel.com
Email: [email protected]; Mark Baron: [email protected]
Phone: 250-814-8780