All Elements Industries is at home in the Creston Valley
Entrepreneurs Kyle McKay and Jaylene Holder have found their niche in the Kootenays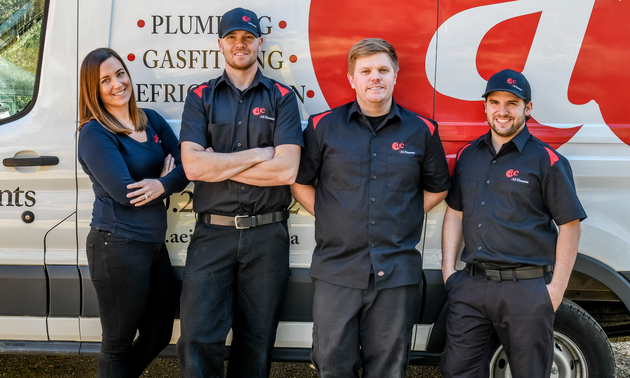 Owned by husband and wife team, Kyle McKay and Jaylene Holder, All Elements Industries offers residential and commercial refrigeration, heating, cooling, plumbing and gas fitting services to Creston and its surrounding area.
Holder was originally from Creston, but moved to Alberta to attend university. Little did she know that she would meet her future spouse and business partner in the process.
"I met Kyle in Edmonton when he came to my house to install a new furnace," said Holder.
McKay fell in love—not just with Holder, but with her home town as well.
"After introducing Kyle to the Kootenays . . . we made it our goal to move back to B.C." she said.
In 2015, the couple and their two sons moved to Creston and started All Elements Industries.
An expert team
The All Elements staff team has a wealth of knowledge, making them stand out as leaders in the field. McKay has 15 years' experience in HVAC and refrigeration, and is one of the most qualified tradesmen in Canada.
"He currently holds four journeyman tickets," said Holder, "and he is always continuing his education and training to ensure he is knowledgeable on the latest technology and innovation."
The company also employs three qualified technicians, each of whom is equally devoted to their training and education.
"I think in addition to our skill, we pride ourself on quality workmanship and customer service. We are never happy unless our customers are 100 per cent satisfied with their service," said Holder.
The couple remains passionately involved with their beloved community, and Holder feels there is no better place to live and work.
"We feel so fortunate for the support our business has received from the Creston Valley," said Holder. "This support has enabled us to provide opportunities that have kept - and brought in - other young families to the valley. Having the opportunity to live and raise our family in such a great community has been a dream come true. Creston has so many great facilities and services but the best part about living here is the people."
For more information, visit the All Elements Industries website or call their office at 250-254-4822.