Starbird Bakehouse is a sweet addition to Nelson, B.C.
If you have a hankering for something decadent, keep this popular bakery in mind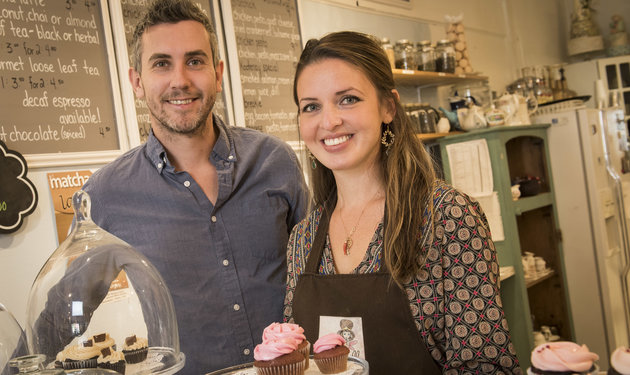 Starbird Bakehouse is a deluxe little shop at 464 Baker Street in Nelson, B.C. Since the baked goods here have garnered so much praise, (from locals and visitors alike), we wanted to know more. Owner and head cake designer, Wabie Quayle, took time to answer some of our questions:
Please tell our readers a bit about the products and/or services you offer:
We offer a unique experience where you can shop our range of eclectic and trendy gifts, some locally made and others handmade worldwide. Our cafe boasts the ever-popular range of Starbird cupcakes, decadent desserts, and our signature crepes. Stunning, custom-designed, occasion cakes are available to order. Other favourites include paninis, gourmet teas, our own Oso Negro blended coffee, quinoa salad bowls, fresh fruit and vegetable smoothies, and frozen yogurt.
We also offer a wide range of gluten-free options and our customers will soon be able enjoy our newly revamped breakfast and lunch menu, which will include exotic salads and expanded gluten-free and vegan options.
What do you feel makes your company stand out?
We wanted to stray from the typical coffee shop, to bring quirkiness and a touch of the eccentric into people's lives. We love to travel and we wanted to offer things that weren't readily available in this area - a taste of exotic, like British Afternoon Tea, French macarons and crepes. Our cupcakes and occasion cakes are beyond compare and in high demand.
We know that our unique menu alongside the more regular items like fresh made soup and delicious sourdough Panini's offers our customers a scrumptious alternative place to eat, drink, shop and relax.
Our love of travelling and fashion makes sure that we are constantly evolving. We are able to both gain ideas and source unique products worldwide which means that we are able to offer our customers a richer experience.
What do you like most about working and living in Nelson?
We love Nelson, and being close to both our extended families that live here, and that we have the opportunity to work alongside. We both grew up in urban cities and spent the previous five years, (before coming to Nelson), in London, UK. So waking up and living in such beautiful surroundings is great for the soul. You almost forget because you are so used to the views and the settings, but every so often you stop and take it all in, almost like you're seeing it fresh for the first time. Not to mention the audacious number of outdoor sports and activities our boys and we can do year-round.
Is there anything else you would like to tell our readers?
Just a big thank-you for the constant support and encouragement from the community! If you've not been in yet, come try out our popular crepes and cupcakes, the heart of our business!
A lot of people who come in for the first time have little idea of the extent of our menu and the quality of food, we encourage everyone to come in and discover what your favourites are.
For more information, and to keep up to date as we evolve, check out our website at www.starbirdbakehouse.com, or find us under Starbird Bakehouse on Instagram or Facebook.