Cory's Dog Grooming & Spa is here for your four-legged family members
Cory Muir took his lifelong fondness for animals and turned it into a successful business.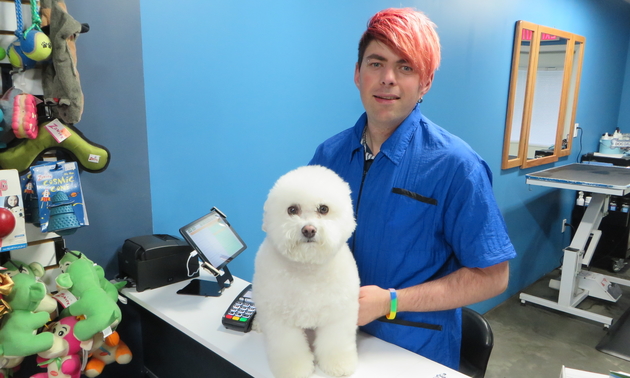 Cory Muir has spent most of his life dedicated to caring for and grooming dogs. Sixteen years ago, he started up Cory's Dog Grooming & Spa in Kimberley, and has had a terrific response from the East Kootenay community. We wanted to know more, so Muir answered some questions about his entrepreneurial process and the services he provides:
Please tell our readers a bit about the services you offer
We offer full-service grooming for all sizes and breeds of dogs. A typical full service includes a therapeutic spa bath— using salon-quality shampoos and conditioners optimally selected for the hair type—blow dry, breed or customer-requested scissoring, clipping or brushing, ear cleaning, toenail cutting and finishing touches. We can also do just a bath and blow dry or toenails. Lastly, we sell a wide range of dog products, including John Paul Pet shampoos, conditioners, sprays and wipes, leads, collars and harnesses, brushes and toys. We even have coats and all-weather boots to keep your canine comfortable through our Kootenay winters.
What do you feel makes your company stand out?
I have been passionate about dogs since I was a boy and went to dog grooming school in Calgary as a teenager. After graduating I started my business in Kimberley and have focused on quality and customer service ever since. I have grown my business over the past 16 years and have a large loyal client base. Many of my customers make the trip to Kimberly from Cranbrook, Creston, Sparwood, Jaffray and Calgary.
What do you like most about working and living in Kimberley?
Kimberley is great small town where everyone is friendly and you can have personal connections with all your customers. They are all like family. Unlike many people I look forward to Monday morning work and seeing my customers and their four-legged family members.
Is there anything else you would like to tell our readers?
If you are not already my customer then I welcome you to visit my shop. I would love to get to know you and your dog and love a challenge. If you want a simple pet trim, a formal show cut, or anything in between, then I look forward to impressing you with an amazing groom!
The business is located at 475 Wallinger Avenue in Kimberley, B.C.
For more information, visit the Cory's Dog Grooming & Spa website.