Taking a hands-on approach
Handsels gift store is an eclectic shop with gifts and practical items to fit every lifestyle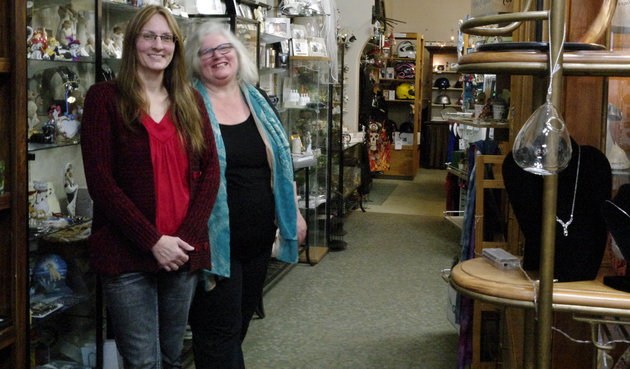 Handsels gift shop is not what you might expect. This eclectic store was started in July, 2009, when former school secretary Diane Hand and her husband, Ken, relocated to Nelson. Diane had been residing in Lethbridge, while Ken was living in Nelson and commuting to work in Castlegar.
"There wasn't much in the way of work for me," said Diane, "so when the opportunity arose to purchase this business, we thought about it and decided 'why not?' "

If you visit this intriguing little shop, you will find yourself impressed and maybe a little bit surprised by the variety of merchandise. There is no strict central theme, but rather a selection that appeals to almost every customer who walks through the door.
"We are not just your run-of-the-mill card shop," Diane said, "although we have some beautiful cards. We carry a full selection of Nelson and Canada souvenirs all year-round. Our giftware is extensive—baby gifts, jewelry, licensed products with Betty Boop, Elvis, Marilyn, etc. We carry many of the Department 56 items such as Snowbabies, Dickens houses and accessories, Willow Tree, Painted Ponies and Jim Shore, and we are the authorized Bradford Exchange dealer for this area. In the spring and summer, we carry fun garden and patio decor, and at Christmas you can't beat our selection of Christmas ornaments. And whenever possible we have infused some of our Celtic heritage."
Always something new
Adding to the roster, Handsels has grown to incorporate motorcycle helmets and gear, including shirts and jackets. There is also an e-commerce bridal store component to the business, where brides can get all they need for the big day.
"We can provide just about anything you need for your wedding," said Diane. "You can order it online or come in to the store and let us help you get what you need. Need a limousine for your special event? We can provide that for you too, with services from West Kootenay Limousine—an addition to our company."
Handsels is a prime addition to the Nelson business community, providing space for locally made items, including hand-dyed silk scarves created by Mary Ellen Marshall (a part-time employee at the shop). The staff is always listening to customer requests and Diane has found that some of the best-selling items have been suggested to her by her loyal shoppers. This accommodating attitude and ever-evolving selection is a sure-fire recipe for success.