Spicing up the Kootenays
Dave's Hot Pepper Jelly is a welcome addition to Invermere's culinary scene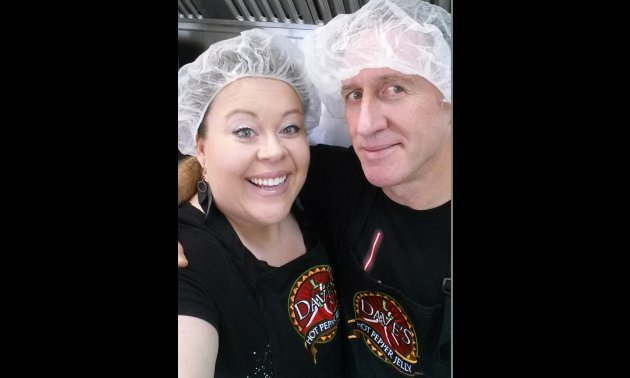 There's nothing better than getting your tastebuds tingling, and a company in Invermere has taken one snack-time favourite to the next level.
Dave and Kathy Sutherland are the sole proprietors of Dave's Hot Pepper Jelly. Dave has been cooking up batches of hot pepper jelly for over twenty-five years, and the business has grown steadily since Dave and Kathy met twelve years ago. Their products are available in a number of grocery stores and specialty food shops in B.C., Alberta and Saskatchewan - and more plans for growth are in the works.
Pick your favourite flavour
Customers can choose between 10 mouth-watering flavours - in fact, Dave's was one of the first companies to offer such a wide selection of hot pepper jelly.
"Most people serve our jellies with cream cheese and crackers," said Kathy, "but over the years, customer feedback and our own experimentation has shown that they are a great addition to a variety of dishes. They make great glazes for meat or fish, are wonderful on sandwiches (the apple jelly with aged cheddar makes a fantastic grilled cheese), pair well with artisan cheeses and have complemented everything from eggs to pizza."
Loving the Kootenay life
The couple is proud to live and work in Invermere. It turned out to be the perfect place to raise their six-year-old son, Jake.
"As well as being a thriving town with a vibrant arts community, Invermere is also well known for its support of small businesses and budding entrepreneurs (a cup of Kicking Horse Coffee, anyone?)," said Dave. "We feel privileged to live here."
The Dave's Hot Pepper Jelly website is getting a brand new upgrade in 2016, so be sure to check it out. Also visit the company's Facebook page to get recipe ideas and more.