Open your eyes to a brand new look
Julie Bellm started her eyelash extension business and brought some more beauty to Kimberley, B.C.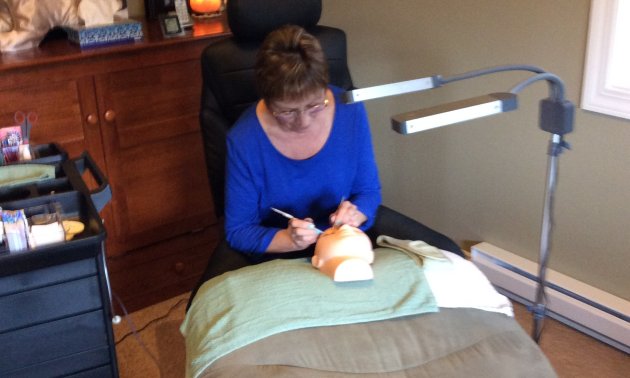 For Kimberley resident Julie Bellm, a trip to Vegas was a source of huge inspiration. After heading there to attend the IECSC (International Esthetics, Cosmetics and Spa) convention in June, 2012, she began an exciting venture of her own.
"After having my lashes done and watching the procedure being done for quite some time, I decided I wanted to learn this," said Bellm. "After returning home (from Vegas) I learned that Lavish Lashes would be having a course on eyelash extensions the end of June, 2012, in Calgary, Alberta. I purchased my kit and practiced on friends before leaving for the course. After successfully passing basic and advanced comprehension and becoming a certified lash specialist on September 9, 2012, I set up a room in my home and started lashing."
Continuing education
The business of eyelash extensions is a complex one. Bellm explained that there are constantly changing application procedures, adhesives, lash types and styles, and other pertinent details that she must stay up-to-date on. She takes classes to continue her education, so she can give her customers the best results. One such course was held in Calgary through LashForever Canada.
To add to her foundation, Bellm is now certified in basic lashing, HDiBrow extensions, 2D3S volume lashing and European volume XD lashing. She is also a certified instructor and distributor for LashForever Canada, and a certified instructor for basic and volume lashing via Beautiful Lashes in Spokane, Washington.
Keeping customers informed
Bellm wants her future customers to know that lash extensions are not harmful to the eyelashes if applied and removed by a trained professional. But there is much more information you should know.
"The lash tech will know the proper width, length and weight of the lash to use," she said. "The client must do her part too in taking care of her lashes with proper cleansing and occasional tip brushing. Basic lashing is the addition of one lash extension applied to one natural lash. So if you have 100 eyelashes per eye you will have 100 lash extensions applied. 2D3S Volume lashing is the application of multiple lashes to ONE natural lash. These multiple lashes are so fine and will not weigh down the natural lash. These are specially made for volume lashing and are safe. This is not the store bought clusters from department stores. I do not recommend multiples of the clusters, in fact I do not recommend clusters at all. Now there is European volume lashing - also called Russian volume lashing. Once again, these are not harmful to natural lashes if applied by a certified lash technician. Russian volume is the application of as many as nine or 12 specially made volume eyelash extensions applied to the one natural lash."
The joys of business ownership and Kootenay living
Bellm finds her job satisifying and fulfilling, as she gets to transform her clients and give them a boost of confidence with a great new look.
"The 'wow' factor alone is worth it - 99% of my clients have fallen asleep within 20 minutes and wake up to their beautiful new lashes feeling refreshed," said Bellm.
"Lash extensions may not be for everyone. They are claimed to be maintenance free, but they are not. Once you have extensions applied you may not get them wet for 24 hours. After 48 hours you may do what you like, go swimming, work out, you treat them like your own. To keep your lashes looking great, fills will be needed approximately every three weeks. The extension sheds with your natural lash."
Her dream job combined with living in the Kootenays was a perfect recipe for this entrepreneur.
"I have lived in Kimberley since 1983 and enjoy the community, and the community spirit Kimberley has to offer," she said. "I can't see living anywhere else, Kimberley offers you everything right here."