Healing with heart
Nanny's Cupboard and Teahouse brings wild-crafted, organic, locally made herbal and artisan products to the Cranbrook community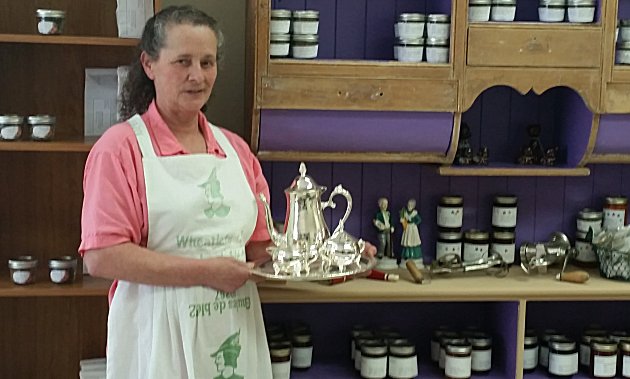 When Laura Young, (a certified herbalist in Cranbrook, B.C.) opened Nanny's Cupboard and Teahouse, she had a goal in mind. Her desire was to bring pure, high-quality herbal products and other homemade items to Cranbrook's retail sector, and also to contribute to the community in meaningful ways. In addition to selling her award-winning merchandise from her pleasant shop location, Young has also reached out to support local groups, including the Girl Guides and the East Kootenay SPCA branch. I sat down with this wonderfully warm lady over a cup of her custom-blended tea, and asked her a few questions about the store.
What inspired you to start this business?
I worked for the Green Home for 20 years and I broke my back. At that time, (with) severe fibromyalgia and chemically intolerant, I had to find another way of helping my pain. I had to turn to herbalism. So I've learned to make medicine, collect medicine, and to keep it pure. I've learned it is pure intent that makes the medicine the strongest. I've also studied energy; I'm a Karuna Reiki master.
What kind of products do you offer?
In my store I have herbal tea blends - some are wildcrafted in the valley where I grow them in my medicinal garden. When I can't collect from my garden, or from the Rocky Mountains, it is certified organic. Those are the tea blends, carefully blended in a certified kitchen. I am a trained herbalist - I've been collecting medicine out of the Rocky Mountains for about 30 years. I've been huckleberry picking that long too . . . so I do know some secrets! My spice blends are also grown in the garden, ethically wildcrafted or certified organic. I also have on my shelves hot pepper jellies, anitpasto, sweet jams and jellies, huckleberry, blackberry, blueberry . . . I've been winning ribbons for my products since 2006. Last year I competed in three communities - Creston, Fort Steele and Jaffrey - bringing home a total of 19 ribbons in one year. I was so proud. According to the health inspector in our town, my products are vegan! We have other gift ideas too; everything in the shop is handmade and locally made.
How have you reached out to the community?
The East Kootenay Wildcrafter will be presenting (an educational walk entitled) Learn how to Identify Medicinal Plants of the Healing Garden, here in Cranbrook - my garden is just four kilometres away from Cranbrook and it has over 50 medicinal plants in it. That walk will be presented May 26th, June 9th and June 23rd, and that is to show the plants in their different stages of growing. Then come back in the fall for the flowers: September 1st and 15th. That's just to show you what the plants look like when growing, (and how to) learn to identify . . . it's not to teach you how to make medicine, just to learn the plants themselves.
Laura Young's herbal walks are done by donation, and the proceeds go toward the East Kootenay SPCA for the prevention of animal cruelty.