Serial entrepreneur Kyle Hamilton of Fernie now tackles industry safety training
Sucre Interactive Technologies uses VR training technology to mimic potential accidents and other unsafe scenarios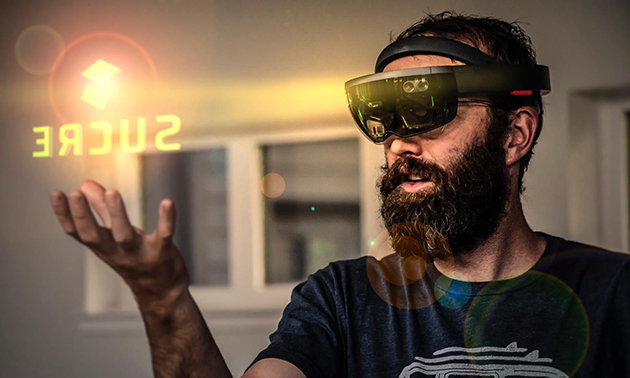 After Kyle Hamilton hands people a virtual-reality headset and they put it on, their first words are "Wow! It's like I'm actually right there. We could totally use this for …."
Hence, Hamilton's third business is being met with a lot of curiosity, intrigue and interest. Yes, this Fernie businessman is a serial entrepreneur, and his third startup—called Sucre Interactive Technologies—helps employers create a safer workplace for mining and other industries with interactive virtual-reality (VR) training applications.
A sad accident spurred the creation of Sucre: a friend died in a mining motor vehicle accident. The company incorporated in August 2019.
Hamilton explained the fundamental principle of his interactive VR training—to recreate "close calls" in a situation where no one is actually at risk. Creating these emotional experiences is proven to aid memory recall, hence helping to ensure that people do not make mistakes on the job.
Not only will better trained employees make a workplace safer but will also help a business's bottom line by reducing lost time as well as improving its return on learning investments. This VR training is useful for any work environment where safety is a concern.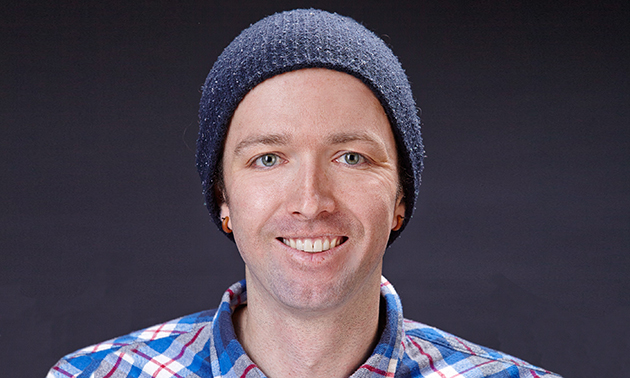 As a participant in the Kootenay Pitch Competition in February, Hamilton walked away as the winner of KAST's second pitch event. (Here's our in-depth story about the Kootenay Pitch Competition put on by the Kootenay Association for Science & Technology.)
One benefit accruing to these Kootenay winners is the opportunity to pitch on a much larger stage—the New Ventures BC pitch competition. Hamilton indeed competed and has reached the final round of that competition. Sucre Interactive Technologies was the only company outside of the Lower Mainland/Capital Region to make the top 15 of this highly competitive startup event.
Hamilton grew up in Saskatoon, Saskatchewan. His family started coming to Fernie around 1990, and he has called it home since 2006. His first startup was Kyle Hamilton Photography and then he co-founded birr marketing agency (see sidebar below about these two businesses) and now Sucre.
At KootenayBiz, we've written about Hamilton for years, and he was one of our 40 under 40 rising stars of business in 2018. Thus, it was rewarding to catch up with him and learn about his latest endeavour.
Why did you choose the name Sucre Interactive Technologies? How many employees do you have?
I can't actually recall why, or how, we decided on the name Sucre, but I remember we had brainstormed a number of different names, and after doing some research, Sucre was available, and we thought it was pretty "sweet." Ha!
We began with three partners—Alex Hanson, Jude Smith and myself—and later added a fourth partner to provide us with additional technical and data security expertise. We do not currently have any employees, as we are choosing to bootstrap this business and put a lot of sweat equity into getting it to revenue and growth. With four founding members and working with a contractor, we have ample hands on deck to get things going.
Describe in a few sentences what Sucre Interactive Technologies does.
Our solution is deployed in businesses where "learning by mistake" has catastrophic real-world consequences. We recreate high-risk worksites in immersive environments (i.e., virtual reality), allowing for repeatable training. "Close calls" in the immersive realm create visceral memories that will not be repeated in real life.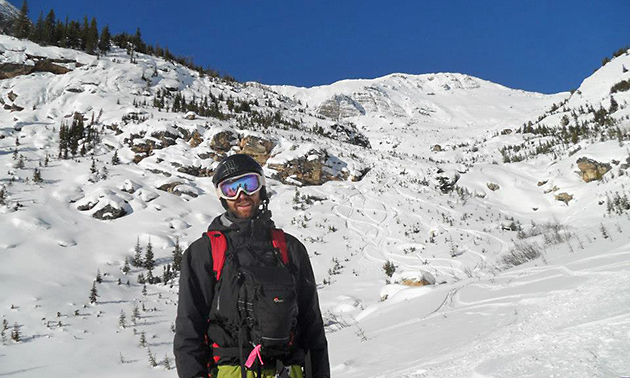 We also capture previously unavailable data such as cognitive load, reaction times, eye movements, etc. during training. Using these data points, our AI [artificial intelligence] algorithm can assess and predict competency and ability to take on new tasks. Learning plans and work placements can then be adapted and tailored to ensure better outcomes for employees, managers and shareholders.
Can you give an example of one of your clients and what you did for them?
We are currently working to build two projects for clients: one to help train employees on how to clean a specific piece of machinery that has a number of risks and another one that involves hazards in a warehouse setting.
How is traditional safety training usually delivered? Why is yours better?
Traditional safety training is usually delivered through classroom sessions, with videos, reading manuals, classroom tests and mock scenarios, and then shadowing someone onsite to learn the ropes.
Because not everyone learns best through classroom settings and creating emotional experiences are proven to aid memory recall, putting people in immersive environments helps to not only train individuals to a higher standard but is also safer, cheaper and more effective to use immersive learning to train for high-risk, high-consequence situations.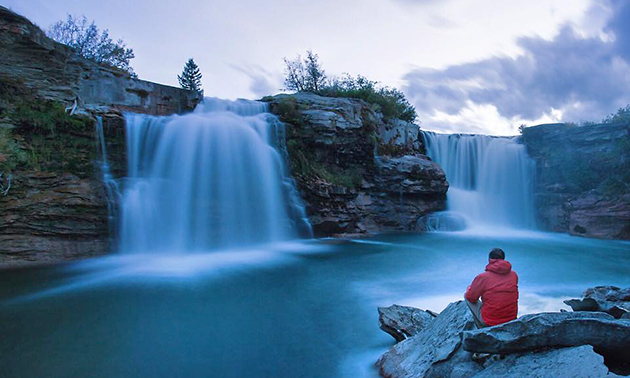 Think of the simulation training that commercial pilots go through before flying an airliner or how mine rescue teams run mock scenarios. We are taking the same principles but applying them to more "ordinary" job roles. Being able to recreate "close calls" in a situation where no one is actually at risk helps ensure that people do not make the same mistakes on the job.
How did you learn VR technologies?
Learning VR technologies has kind of been an organic evolution from my previous experience as a photographer and content creator. The actual "VR" development side of things isn't really my forte, but rather the creative side of things and business development are where my skills lie. We have come together as a team to help complement each other's skill sets to have all the knowledge and experience to build this business.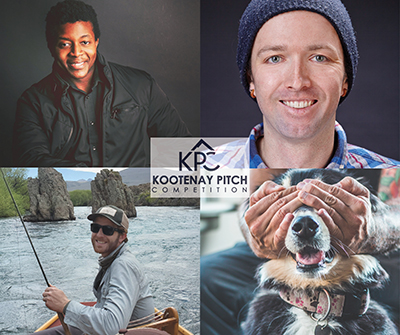 Specifically, what types of businesses and industries would be your clients?
To launch our business, we are focusing on the mining industry, as it is both proximal to us during these times of restrictions, but also we have ready access to expertise in this industry. The application for this technology, however, is extensive. Any work environment where safety is a concern—such as oil and gas, fire fighting and rescue, manufacturing, construction and warehousing—are all future targets. This technology is even applicable to "soft skill" training, such as customer service, to better train employees for various scenarios like difficult and rude customers, or negotiating and leadership development.
What did you gain from KAST's Kootenay Pitch Competition?
The Kootenay Pitch Competition has been a great experience. It has helped us not only hone our pitch into a stronger, more compelling argument for the value of our service but also helped us get in front of investors, customers and potential partners to help us grow our business.
I would definitely recommend the experience to any business looking to scale and grow.
What do you enjoy about being an entrepreneur?
I think what I like most about being an entrepreneur is the ability to build something from nothing. Taking an idea and turning it into something of value is very rewarding. The flip side to that, though, is the constant pressure and stress of knowing that it is on you to deliver. Your brain is always "at work," even if you're not physically there, which can put pressure on relationships and your own well-being.
Having said that, it is awesome "being my own boss" here in the Kootenays and having the flexibility to take the morning off if it's just snowed 40 centimetres or leave work a little early to go for a pedal if it's sunny out in the summer. I think I do some of my best thinking sitting on a chair lift, casting a fly into a stream, or huffing and puffing up a long slog bike pedal.
What's the hardest part of starting a business?
I think the hardest part is probably the uncertainty. Do we have enough cash to make payroll? Will people actually pay for this product/service? How do I pivot if something unexpected happens? Especially now in the middle of a pandemic, there have been more than a couple sleepless nights worrying about the "what-ifs." But my experience in Fernie, and more generally the Kootenays, is that it is a very supportive business community. If you have an idea, go for it!
Do you have any advice for other entrepreneurs?
Two pieces of advice:
1. Don't go "all in." Start small, and build your business on evenings and weekends. Make sure you have a viable business that generates sufficient revenue and cash flow to support your needs before making it your sole focus.
2. Just go for it! I've spoken to a lot of people who say things like, "I've got this idea to do XYZ, but.…" But what? There are a million and one reasons to not do something, but if it's something you're truly passionate about, you'll never know unless you try.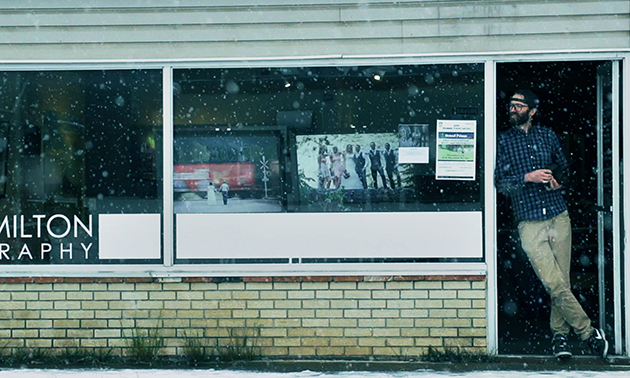 If you're interested in learning more about Sucre either as an investment opportunity or for their services, visit their website www.sucreinteractive.com.