In the "dark-roast" town of Fernie, Rooftop Coffee Roasters succeeds with a lighter touch
21-year-old entrepreneur Keegan Street has a nose for coffee … and business success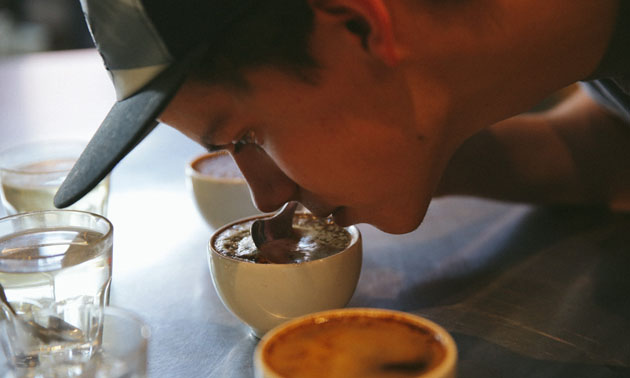 Keegan Street's goal was to make specialty coffee more approachable and less pretentious. With 12 other coffee roasters in the Kootenays, maybe his youthfulness—he's just 21 years old—gave him the bravado to take on the competition. After all, the competition includes the likes of Kicking Horse Coffee in Invermere and Oso Negro Coffee in Nelson.
With his parents—David Street and Sarah Deschenes—Keegan founded Rooftop Coffee Roasters in Fernie in 2016. At the end of December 2019, they opened their coffee bar, which won the New Business of the Year from the Fernie Chamber of Commerce at their Business Excellence Awards in October.
"Our original vision was to create a space where people could experience something different and learn more about coffee," said Keegan. "We had coffee tastings, brewing classes and even roasting workshops envisioned so that we could share our passion and knowledge of coffee. Also, the roasting operations are right behind it all, so customers can see the whole process and engage with baristas if they want to learn more about what's in their cup. So that's why we try to describe it as more of a 'coffee bar' or 'tasting room' because we envisioned it as more than a regular coffee shop."
Keegan and his parents co-manage operations of the cafe and roastery with the assistance of six employees. This articulate young entrepreneur answered a few questions about his successful small business.
Where did your company name come from?
Our journey into coffee began when I was 16 years old, roasting coffee as a hobby from the rooftop of our home.
What makes your coffee different?
The coffee scene in the East Kootenays has long been mostly influenced by coffee companies like Oso Negro and Kicking Horse, which offer a more traditional, darker-roasted coffee, and that was certainly true in Fernie when we moved here. While we have a lot of respect for the work these guys have done in creating a culture of coffee in the Kootenays, we just wanted to do something different.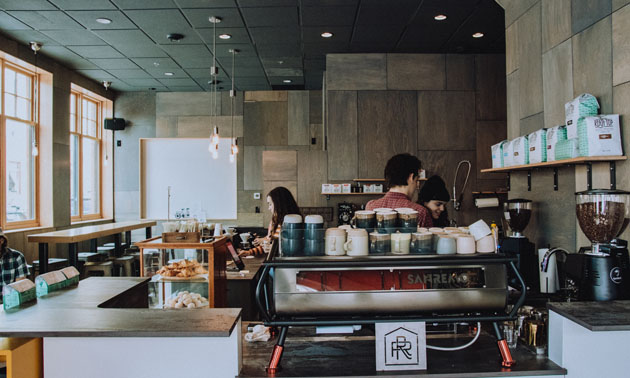 Roasting lighter allows more of the inherent flavours in coffee to express themselves and allows us to better highlight how different coffees can taste from each other due to the different growing conditions and processing methods. Roasting light allows us to offer every flavour profile from chocolatey to fruity to floral to citrusy. That being said, we do offer a darker roast (our Northern Comfort), because we want to offer something for those who want a nice and rich, bittersweet cup that'll taste great with cream and sugar. Everyone has their own preferences and we try to cater to that as best we can.
How is your coffee "green"?
In the literal sense of the word, coffee is "green" before it is roasted. So "green coffee" is what we call the unroasted seeds that come to us from Colombia, Costa Rica, etc.
In terms of sustainability, we try to purchase from producers who have prioritized ecological farming methods. For example, one of our partners in Costa Rica has been hybridizing new coffee varieties that are more climate-change resistant and has planted so many shade trees that their plantation is more of a biodiverse ecosystem than a farm, and they're certified carbon neutral. I'm actually completing a degree in environmental engineering and hope to apply it in coffee to find ways to make coffee farming more resilient and sustainable.
Also, we try to get as much transparency as we can to ensure that the farmers who produce our coffees are getting fair prices, often twice as high as fair trade prices. Beyond that, we try to buy from the same producers every year so we can extend as much consistency and stability through purchasing. All in all, we believe we have a duty to ensure our coffees are never coming at the expense of someone's livelihood.
You have a social consciousness component in your business. Please explain how it manifests.
We try to direct funds and products to causes we believe in, whenever possible. We frequently donate coffee to various fundraisers and events locally like Tears & Gears and the Fernie Adaptive Snow Program. As a former alpine ski and cross-country bike racer, I try to "sponsor" local athletes as much as I can with free coffee!
Our Coffee for A Cause initiative was a way for us to raise money for CIMA, a home for abandoned or neglected boys near Lima, Peru, where the Fernie Academy goes every year for their Grade 10 volunteering trip.
Rooftop Coffee Roasters is certainly a family affair. How are they all involved in the business?
Our entire immediate family is involved in the business in some way. My youngest sister, Charlize, worked as a barista in the cafe this summer in between her first and second year of university, and my oldest sister, Kelsey, just moved to Fernie from Victoria and has started working with us at Rooftop. Though she's never formally worked for us, my middle sister, Lauren, is a herbalist and makes the turmeric blend we use in our Golden Milk Lattes. So everyone is involved.
Who designed your new bag design and how would you describe it?
One of our former baristas, Yaiza Saratxaga, helped us to design our new bags. The concept behind it was to put Fernie front and centre on our packaging, while still using labels to convey flavour. Our old bags followed a colour-coding system (e.g., chocolate = brown, fruit = red), and then Yaiza created illustrations inspired by Fernie's scenery that incorporated those same colours. The result is a bag that associates an illustration to a flavour profile, while also getting to show off what makes our hometown so beautiful.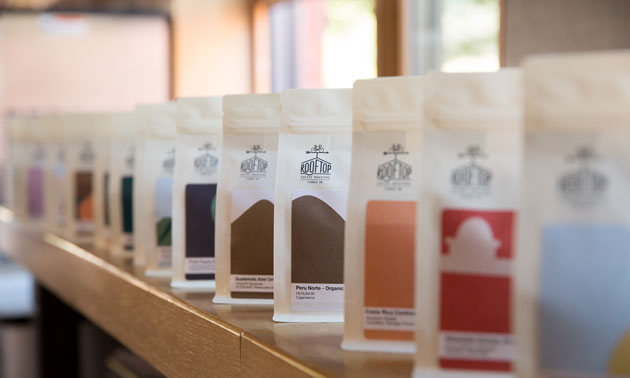 Each bag also features info on the coffee, like the farmer's name, the variety and the tasting notes. Also, the bags are compostable, which was really important for us.
Where is your coffee sold?
In Fernie, it's sold at The Guide's Hut, The Tipple, The Mountain Market, Mugshots and (of course) at our cafe. It's also served at the Himalayan Spice Bistro. In the Kootenays, we're at Soulfood in Cranbrook and Stoke Market in Kimberley. Beyond the Kootenays, we're carried in cafes, shops and other retailers all over Canada from Vancouver to Winnipeg, Toronto, and Montreal, and even in Cornerbrook, Newfoundland.
You've come a long way from your little coffee trailer to your streetside cafe. What changes have you made with COVID-19?
We introduced a few different measures to facilitate contactless service in the cafe, like the take-out window and our online "curbside" ordering site, so that customers could order from home and pick up without coming into the cafe.
We fully reorganized the layout of our cafe and retail shelves so that customers could access and see everything from the front door, and facilitated contactless payment so that when everything went smoothly the barista was never less than 10 feet from clients. We also added metal tables on the front of our building and expanded our side patio into the street to add more outdoor seating during the summer. It was a huge hit! People frequently told us it was the best contactless cafe system they'd seen in Fernie.
Some people were a bit irritated about not being able to sit in, but for the most part people were very understanding and supportive. For the colder months, we're still not able to welcome people in, just because of our layout, and so we've added infrared heaters next to the takeout window. Let's see what winter brings!
What advice do you have for other entrepreneurs considering starting a new business? Do you think your age has influenced your approach in any way?
Find mentors. I'm so lucky that my parents both have extensive business experience and have provided me with so much guidance and knowledge when it comes to running a business. I've also found mentors in the coffee industry, and they've been such valuable resources for learning how to navigate different aspects of the industry, like roasting and sourcing.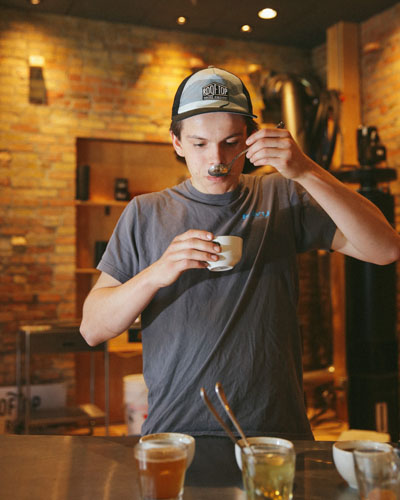 That being said, don't just follow in the footsteps of others. There's a happy balance between utilizing the expertise of your mentors while also doing your own thing. I think that's one of the biggest effects my age had on my approach. Because everything was new (I didn't have years of experience working for other roasteries), there was no blueprint in my mind for how a coffee company should operate or market itself, and that really allowed us to carve our own path.
On the flip side of that, there are things that only experience can teach you, and it's important to have enough humility to be able to reach out to others for guidance … which is hard when you're young and think you know everything.