These Kootenay coffee roasters help you get your buzz on for National Coffee Day
Kootenay coffee roasters and producers are passionate about the perfect cup of coffee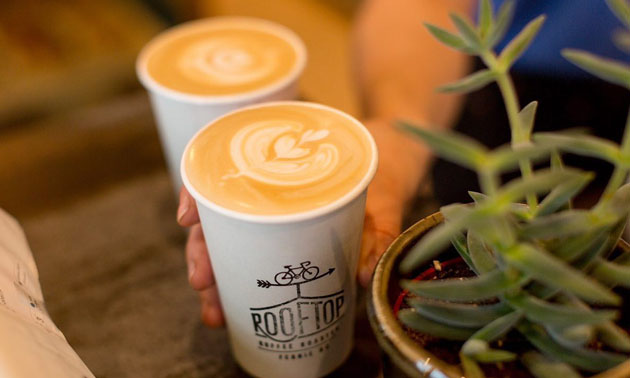 Coffee lovers rejoice! September 29 marks National Coffee Day, so it's a perfect time to hit up your favourite java spot (like we needed a reason to do that, right?). In honour of this buzz-worthy day, here's some fun facts about coffee:
Coffee is the second-most traded commodity in the world, second only to oil.
Coffee beans are actually the pit of a berry, which makes them a fruit.
Scientists have successfully turned ground coffee into biodiesel, so one day coffee may be fuelling your car.
Globally people consume about 2.25 billion cups of coffee every day.
According to this CBC article, Canadians rank third in the list of Top 10 Coffee Consuming Countries. That's a lot of coffee aficionados! Thankfully, here in our little corner of the world, there's no shortage of places to grab a cup of our favourite beverage. There's also no shortage of dedicated coffee roasters who strive to create the perfect cup of coffee for us to appreciate.
Check out this list of coffee roasters and producers from across the Kootenays:
East Kootenay
Coffee roasters in Cranbrook
Kootenay Roasting Company: Established in 1999, the Kootenay Roasting Company has a cute little storefront on Baker Street in downtown Cranbrook, with lounge seating and a small sidewalk patio in the warmer months. Sit back and enjoy the vibrant atmosphere while you watch artisan roasters at work. Coffee beans are roasted daily on the premises to ensure quality and freshness.
Where to buy: Whole and ground coffee bean blends can be bought on site at the Kootenay Roasting Company, located at 903 Baker Street in downtown Cranbrook. Their coffee blends can also be purchased online via their website.
Coffee roasters in Creston
Lark Coffee Roasters: One special cup of coffee and a desire to bring that taste to her hometown led owner Ilana Cameron to open Lark Coffee Roasters in Creston. Lark Coffee Roasters scooped up the award for Best Home-Based Business at the 2021 Creston Valley Business Excellence Awards.
Where to buy: Lark Coffee Roasters is located at 237 - 11th Avenue North in Creston. Lark Coffee can be purchased directly from her roasting studio, online through her website or in retailers in Creston and surrounding towns.
Coffee roasters in Fernie
Rooftop Coffee Roasters: These guys make coffee culture cool. Rooftop Coffee Roasters manages to meld the hip with the human side of the coffee community—the people. It's the fellow coffee nerds, the roasters, the baristas and the people they meet at festivals and farmers markets who inspire them every day. KootenayBiz chatted with Keegan Street, the twenty-something-year-old co-owner of the business—read the story here.
Where to buy: Rooftop Coffee Roasters is located at 492A - 2nd Avenue in Fernie. You can purchase single origin, blends and limited edition blends online through their website. While you're there, sign up for a Rooftop Subscription box filled with goodies (and coffee, of course!) or a release of their cool "Beats & Beans" box—their tribute to coffee and great Canadian independent music artists.
Fernie Roasting Company: From their start roasting coffee beans in a cast iron skillet on their back deck to a mobile coffee roasting facility, the Fernie Roasting Company has come a long way in a short time. Started in early 2020, the focus of this new, up-and-coming business is continuing their experimentation with beans and flavour profiles and growing their customer base.

Where to buy: Fernie Roasting Company beans can be purchased directly from their website. They can also be found at The Local Store in Fernie and at local farmers markets and events around the region. The best way to keep in touch with the company is through their Facebook and Instagram pages.
Coffee roasters in Golden
Purcell Coffee (formerly Bean Bag Coffee Roasters): As a small boutique roaster, Purcell Coffee has been in the brewing business for over 20 years. Ever striving to produce the perfect cup of coffee, their roastmasters are constantly exploring and developing interesting blends to suit every taste. Their dark roast blends, named after Golden landmarks like Mount 7 Mayhem and Dogtooth Dark, are very popular.
Where to buy: Purcell Coffee is located at 521 - 9th Avenue North in Golden. Beans can also be ordered online and shipped.
Coffee roasters in Invermere
Kicking Horse Coffee: Voted as one of the Best Workplaces in Canada in 2021, Kicking Horse Coffee is a homegrown success story. They're all about having fun and not taking themselves too seriously. They make serious coffee though—the company is Canada's #1 best-selling whole bean coffee brand.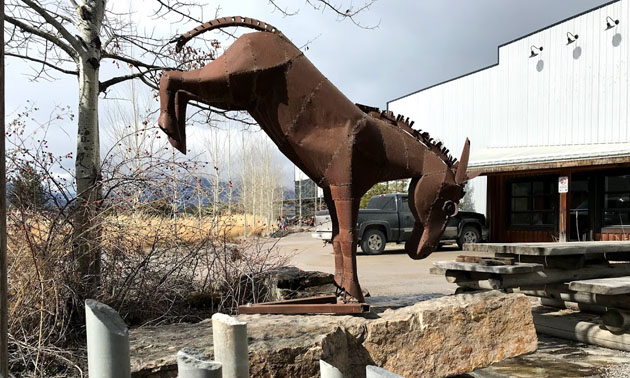 Where to buy: Selling organic, fair-trade ground and whole coffee beans with quirky monikers from their Invermere-based cafe, the brand is also found in grocery stores and cafes across Canada and the U.S. They are also partners with many well-known online stores, such as Amazon, Walmart, Well.ca and London Drugs. Visit the Kicking Horse Coffee website to find a location near you.
Stolen Church Coffee Co.: By roasting premium, ethically-sourced coffee beans from around the world in micro-sized batches, the Stolen Church Coffee Co. ensures the ultimate in freshness and taste. Their focus is on unique single origin and limited blends of coffees. A locally-owned and family-run business since 2004, the cafe also specializes in homemade sorbets and gelatos, house-made soups and sandwiches.
Where to buy: Stolen Church Gelato & Coffee is located at 1045 - 7th Avenue, Invermere. You can also order coffee through their website.
Coffee roasters in Kimberley
Chaos Coffee Roasters: Locally-made, hand-crafted coffee with heart, created using single-origin beans in small batches. Chaos Coffee Roasters strives to bring you the freshest coffee possible, full of flavour and aroma.
Where to buy: Chaos Coffee Roasters currently sells their products at local farmers markets in Kimberley, Cranbrook and Fernie. It's also sold at Kootenay-Farm-To-Folk in Cranbrook. Online sales are coming soon.
Northstar Roasting Company: Looking for "damn good coffee"? Look no further than Northstar Roasting Company, a dream come true for owner Brian Conn who jumped into action when Kimberley's Steam Donkey Coffee closed their doors. With names like "Chapman Camp Medium" and "Townsite Blend" given to his signature creations, owner Brian Conn Conn tips a hat to his community of Kimberley. A new product on the horizon is nitrogen-infused cold brew in a 12-ounce can.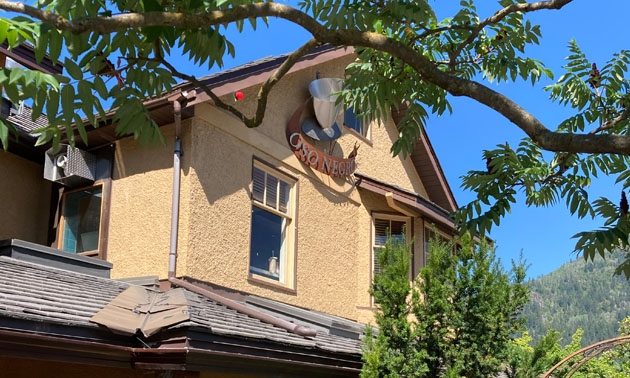 Where to buy: Northstar Roasting Company's blends are available through select retailers in Kimberley and beyond.
West Kootenay
Coffee roasters in Kaslo
Kaslo Bean Roasting: For serious coffee lovers, it's a natural progression to go from simply drinking coffee to roasting your own beans and developing specific flavours you enjoy. This is how family-owned and -operated Kaslo Bean Roasting came to be—a simple love of great coffee and the desire to share that enjoyment with others.
Where to buy: Whole beans are available to order online from Kaslo Bean Company's website. You can also buy their products from select retailers in Kaslo and Nelson.
Coffee roasters in Nelson
No 6 Coffee Co.: The No 6 Coffee Co. is a modern boutique coffee-roasting company focused on an educational approach to java appreciation. Everyone has their own unique flavour preferences when it comes to coffee—a tasting bar at the No 6 Coffee Co. helps you to discover what makes the perfect cup of coffee for you.
Where to buy: Limited release and filter blends are available at the No. 6 Coffee Co. storefront, located at 511 Front Street in Nelson. You can also buy blends, coffee equipment and cool swag online through their website.
Oso Negro Coffee: Lovingly crafted coffee blends created with an artistic sensibility and an artisan's hand is at the heart of Oso Negro Coffee in Nelson. Using a vintage 1954 Probat coffee roaster, beans are roasted five days a week to the highest quality standards. A coffee aficionado's dream, there are over 20 different blends to choose from.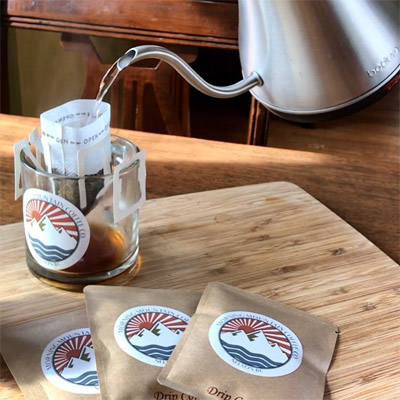 Where to buy: The Oso Negro Cafe is located at 604 Ward Street in Nelson. Blends can be purchased online and are available at select retailers across B.C.
Morning Mountain Coffee Co.: Featuring a unique twist on the usual bags of blended coffee, the Morning Mountain Coffee Co. combines their freshly roasted beans into unique single-serve pour-over drip coffee bags. The idea stems from the company's environmental concerns and desire to reduce wasteful K-cup usage. An added bonus is the ease of use: the single-serve bags are perfect to take along on camping trips and outdoor adventures.
Where to buy: Morning Mountain Coffee Co.'s drip coffee bags can be purchased via their website and at a growing list of local retailers. Currently products are available at New Market Foods in New Denver, Home Grown Market in Nakusp and Willow Home Boutique in Kaslo.
Coffee roasters in Revelstoke
Stoke Roasted Coffee Company: Making a positive impact is what drives the Stoke Roasted Coffee Company. From using biodegradable packaging to ensuring that their coffee beans are certified organic and fair trade, their goal is harm reduction . . . and, of course, a great cup of coffee.
Where to buy: Stoke Roasted Coffee is sold and served at select retailers and dining establishments across B.C. and Alberta. You can also find them at the local farmers markets in Revelstoke. Online sales are coming soon!
Coffee roasters in Rossland
Seven Summits Coffee Company: A passion for great coffee led to the creation of the Seven Summits Coffee Company back in 2010. A hip little spot, the cafe features unique blends of small-batch, freshly-roasted coffee in whole bean format, as well as Nitro Cold brew.
Where to buy: Seven Summits Coffee Company is located at 1807 Columbia Avenue in Rossland. Products can also be ordered online and picked up locally. Freshly roasted beans are also available from select retailers in the West Kootenay area.
Coffee roasters in Trail
Trail Coffee Co.: When the tagline for a coffee company is "Because bad coffee really does suck," you can bet they take their coffee seriously. At the Trail Coffee Co., their 100 per cent fair trade and organic beans are roasted in small batches, hand-blended and hand-packaged. With 12 different varieties of medium and dark roast blends, there's a taste for everyone.
Where to buy: The Trail Coffee Co. is located at 1369 Cedar Avenue in Trail. Its coffee blends can also be purchased online via their website and found at retailers in Rossland, Trail, Fruitvale and Castlegar.
Coffee roasters in Ymir
Underground Coffee Company: Located midway between Salmo and Nelson in the little village of Ymir, The Underground Coffee Company is a micro-roaster of top-quality Arabica coffee beans. Beans are sourced from wild-growing coffee plants from the natural cloud forest in Oaxaca, Mexico, and are a completely sustainable source.
Where to buy: Underground Coffee Company products can be found throughout the West Kootenay region, including Kootenay Co-op and Ellison's Market in Nelson, The Goods in Ymir and Salmo Foods.
If we missed adding your coffee roaster/producer to this list and you would like to be included, please send us a message: [email protected].