Keep calm and eat chocolate from these Kootenay chocolate shops
These chocolate stores are ready to serve you for holidays, celebrations and everyday enjoyment
by Julie Matchett and Virginia Rasch
—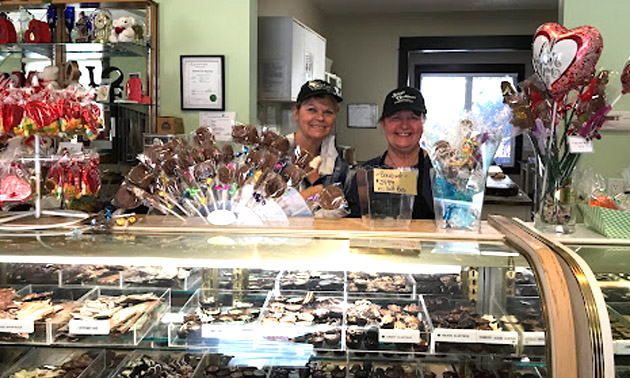 Chocolate goes well with any holiday—truth be told, chocolate goes well with any day of the week that ends in "day."
We love chocolate for many reasons, including:
it tastes fantastic
it smells divine
it feels great when it melts in our mouths
But we also crave chocolate because it releases dopamine, a feel-good neurotransmitter in our brains' pleasure centres.
Chocolate is big business too! By revenue, the market size of chocolate production in Canada is projected to be $2.6 billion in 2022. In fact, the market size of the chocolate production industry has increased faster than the overall economy of Canada (data from IBISWorld).
We're sure you're familiar with the chocolate shop closest to your home or work place. But if you're traveling around or through the Kootenays, here's a list of all the chocolate shops we could find. (If we missed yours, please email us here.)
Chocolate shops in the East Kootenay
Chocolate shops in Cranbrook
Sweet Gestures: Home of lovingly hand-crafted Belgian chocolates, fudge, truffles and treats, Sweet Gestures is a definite stop if you're in downtown Cranbrook. Housed in a quaint little heritage home, the store also specializes in custom cakes and tortes for weddings and special occasions.
Chocolate shops in Fernie
Beanpod Chocolate, Gelato and Coffee: Dedicated to producing quality chocolate the old-fashioned way, Beanpod is one of the original bean-to-bar chocolatiers in Canada. Each batch of chocolate starts with fresh organic cacao beans and results in a premium-quality flavour and texture. Beanpod sells a mouth-watering variety of chocolate bars, as well as gift boxes and premium coffee.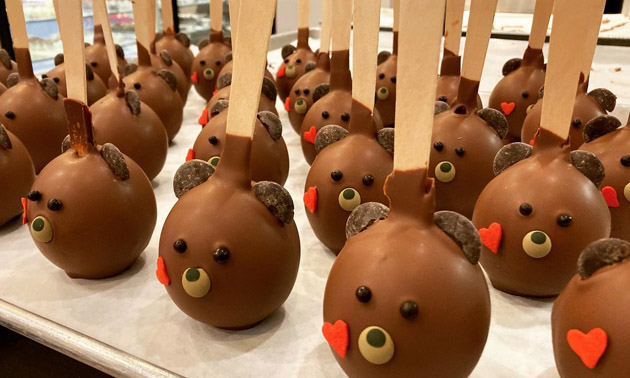 Rocky Mountain Chocolate Factory: If it's decadent chocolate goodies that you're seeking out, then Rocky Mountain Chocolate Factory is the place to hit up. Located in downtown Fernie, this family-owned business creates mouth-watering premium boxed chocolates and fun items like chocolate bombs and fudge. They also have vegan and gluten-free options.
Chocolate shops in Invermere
Chocolates by Anna-Marie: As a small-batch speciality chocolatier, Chocolates by Anna-Marie creates a range of quality mixed-box flavours such as passion fruit caramel, hazelnut crunch and Bailey's apple pie ganache. Gourmet selections are available in both milk and dark chocolate, along with other treats like solid bars, seasonal creations and hot chocolate bombs.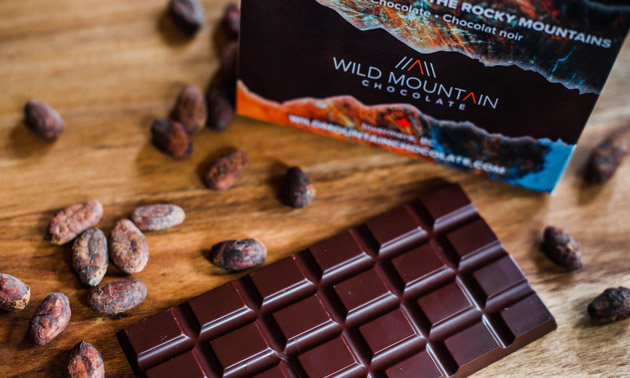 Wild Mountain Chocolate: One of the few bean-to-bar creators in Western Canada, Wild Mountain Chocolate produces creamy batches of sweet chocolate using organically-sourced cacao beans and sugar. Their bar selection includes plant-based chocolate, dark chocolate and flavours such as orange, mint and cafe mocha.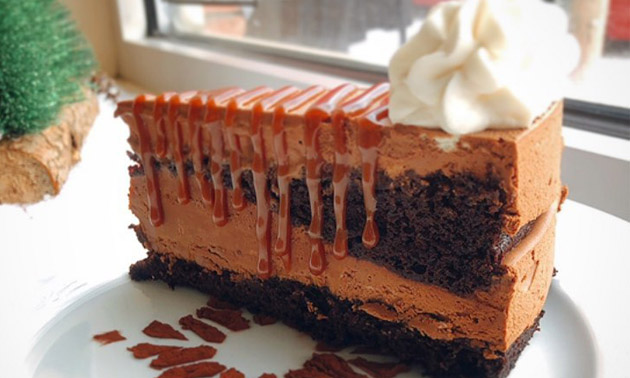 Chocolate shops in Kimberley
Grow Cake & Chocolate: This boutique chocolate shop is located near Kimberley's iconic Platzl and specializes in cake, chocolates and treats all made in-house. Treat yourself or a friend to one of their delectable bonbons or truffles. Flavours are ever-changing, but some of their current selections include salted caramel, dark chocolate espresso ganache nestled in white chocolate and Earl Grey.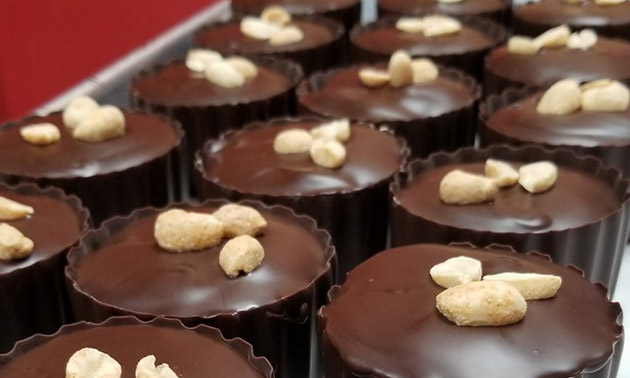 La Lune Candy Shoppe: Kimberley's destination for those with a sweet tooth since 2005, the La Lune Candy Shoppe is proudly family-owned and -operated. Makers of fine chocolate, fudge and caramel, the shop also carries a wide variety of sweet treats like jelly beans, gummy bears and brand-name candy.
Chocolate shops in Sparwood
Marina Wolff Chocolatier: This family-owned and locally-operated artisan chocolate shop has a storefront in the Greenwood Mall in Sparwood. They prides themselves on delivering a delicious chocolate experience that goes above and beyond design and packaging. Bonbons and caramels are a speciality.
Chocolate shops in the West Kootenay
Chocolate shops in Castlegar
DoodleBug Chocolates: DoodleBug's handmade-with-love chocolate confections can be found at retailers across the West Kootenay and Okanagan. They offer a variety of delicious centres—Kahlua Espresso, Pina Colada and Orange Brandy Creamsicle to name a few— smothered in either milk, dark or white Belgian chocolate.
Chocolate shops in Nakusp
Jennifer's Chocolates: With a master chocolatier at the helm, Jennifer's Chocolates produces the ultimate in yummy goodness. From the owner's famous salted caramels to Fireball shooters filled with cinnamon whiskey, there is a delicious treat waiting for every chocolate lover on your list. Jennifer's Chocolates can be ordered online through her website.
Chocolate shops in Nelson
Art of Chocolate: Located on Railway Street in Nelson, the Art of Chocolate conjures up mouth-watering magic in their kitchen, creating all manner of tempting treats. They are active at local farmers markets and also hold fun events such as Spring Break chocolate making workshops for kids (and perhaps kids at heart?)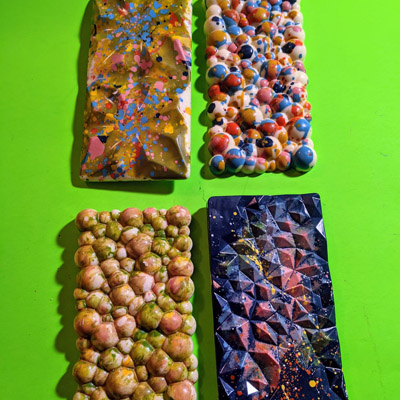 Dogtooth Chocolate: A bar of chocolate from Dogtooth is more like an abstract artistic masterpiece than a mere piece of candy. Headed by a team of passionate chocolatiers and artisans, the company melds their small-batch chocolate into creative and one-of-a-kind chocolate creations. Looking for a unique sweet gift for someone special? Head to Dogtooth Chocolate.
Kootenay Chocolate: Discover hand-crafted Kootenay-made chocolate all in one place! Kootenay Chocolate brings together the most talented chocolate makers and chocolatiers into one space, enticing the senses of any die-hard sweet tooth fan.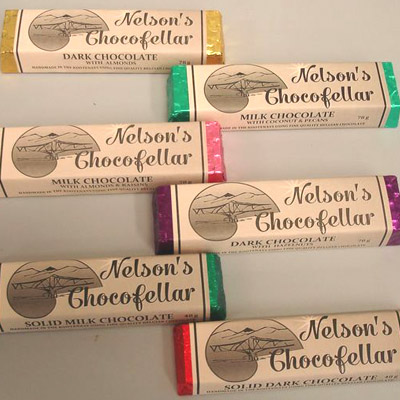 Nelson's Chocofellar: Tantalizing the taste buds of customers since 1990, Nelson's Chocofellar is a boutique shop specializing in high-quality artisan chocolate creations like truffles, bonbons, pralines and solid bars. Their confections can be found at retailers across the West Kootenay and online through their website.
Chocolate shops in Revelstoke
Revelstoke Chocolate Company: Headed by a former IT industry worker, the Revelstoke Chocolate Company aspires to create the ultimate in chocolate goodness. Smooth and delicious bars of milk, dark or white Ecuador chocolate are currently available. The Revelstoke Chocolate Company's products can be found at the Revelstoke Farmers Market and online.
Chocolate shops in Rossland
Mountain Nugget Chocolate Company: This boutique shop specializes in artisan chocolate bars and luscious truffles. Some of the Mountain Nugget Chocolate Company's offerings include unique creations and flavours like Wasabi pea, dried Roma tomatoes and sea salt, and hibiscus and dark chocolate.
Chocolate shops in Slocan
Viva Cacao: Headed by a self-described chocolate alchemist, Viva Cacao crafts small-batch goodies that are free of dairy, gluten and soy ingredients. Started in 2012, the company is also dedicated to using ethically sourced products and superfood ingredients like reishi mushroom, hemp seeds and chai spices. Want to know more? Read our article about this unique chocolatier.