Chocolatier scales up Viva Cacao from little Slocan to across B.C. and beyond
Owner Beth Campbell shares her entrepreneurial journey of her craft chocolate company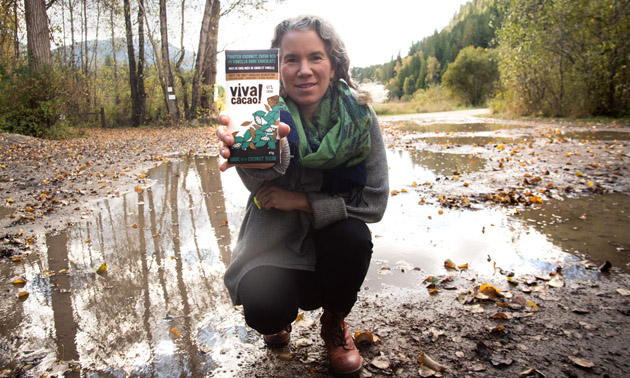 Beth Campbell is a self-described chocolate alchemist. She's also a successful Kootenay entrepreneur who started making specialty chocolates in Slocan in 2012 and has been scaling up ever since.
Viva Cacao's chocolate niche is small-batch, craft chocolates that are free of dairy, gluten and soy ingredients and full of quality and ethically sourced ingredients.
That's a mouthful but her chocolates are the proof with their unique flavour combinations and healthier ingredients. That's where Campbell's alchemy shines.
"I started making chocolate out of a love for food alchemy and noticed a lack of options on local store shelves for dairy-free chocolate with alternative sweeteners and superfoods," she said.
Her chocolates are free of white sugar and are sweetened with coconut sugar. Superfood additions include reishi mushroom, lucuma, maca root, hemp seeds and chai spices. And as many of us recognize, cacao is the superfood of superfoods.
Campbell moved from Oregon to the Slocan Valley in 2003. "As soon as we got here, I got pregnant and I have never left," she said.
KootenayBiz caught up with this busy business woman and learned about her entrepreneurial journey, including some advice on scaling up a business.
When did you start Viva Cacao?
I actually started making chocolate back in 2012 and started out under a different brand, Belicious Chocolate, until 2019. I decided at that point that I was ready to grow the business and take it beyond the hobby level. Viva Cacao was launched in June 2019, and we have had amazing growth since then.
How many employees do you have?
Two plus a marketing helper.
How much chocolate do you produce a year?
We sold around 30,000 bars and holiday barks last year and look to double that in 2021.
I love the term chocolate alchemist! Why do you call yourself that?
I suppose I always considered what I do alchemy because I love to combine ingredients to create something magical. I have always had a knack for flavours and finding the right mix of the five flavours (sour, sweet, bitter, salty, and savouriness or umami).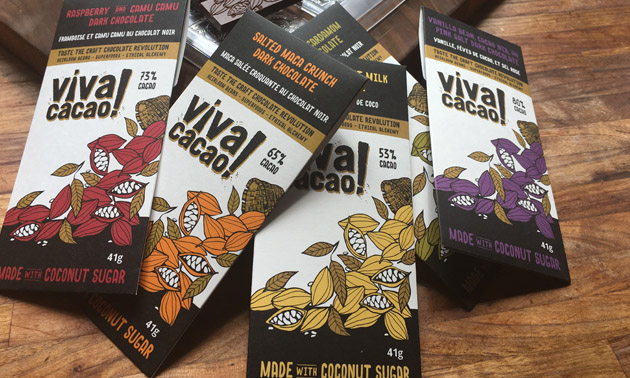 Which are your most popular products? Is there a big demand for vegan chocolate?
Ah, "most popular" is a question many ask and it is hard to answer 100% because not all the stores are carrying all our products. Currently, our top six are:
Vanilla Chai
Raspberry and Camu Camu
Salted Maca Crunch
Dark Vanilla Salt and Nibs (80%)
Coconut Milk
Coffee and Cardamom (although the new collaboration with Oso Negro Coffee is quickly surpassing that one)
There is a large demand for vegan products, and although a lot of dark chocolate is actually vegan, it has been an important selling point for us. Many people are switching their diets and trying to be conscious consumers.
Why is your chocolate the best around?
Ah shucks, that is what I am hearing from many customers. I suppose because we work hard to create a product that we would want to see on the shelves. We strive to not only make healthy and ethically sourced chocolate but also to make it delicious. And I have been working to perfect the recipes for many years now and am always improving my methods. But maybe the most important reason is that I source the best quality cacao I can find.
In what ways is your business "green"?
Any of my employees would tell you that I go above and beyond to reuse, recycle and reduce waste. I am the kind of person that washes plastic bags and until Covid-19 would always bring my own bags to the grocery store. I have transferred that passion to reduce waste in my business by recycling shipping materials constantly and getting bubble wrap from others before I would buy it new (I am proud to say I have not bought any bubble wrap thus far). We use eco bubble mailers for our eCommerce, and all of our wrappers for our bars are backyard compostable and we even have a video to prove it! The outer bar packaging is printed on FSC-certified paper and is recyclable or burnable.
You sell your products in a lot of places. Do you have national aspirations?
I am just working on getting throughout B.C. and Alberta at the moment, which is a large task and may take years. If at that time I feel the need to grow more, I may push into Toronto and the East Coast of Canada. I do get many orders online from over there.
Many small businesses in the Kootenays have problems scaling up. How did you scale up and do you have any advice for other small business owners?
Ah, another big question. I am in the middle of it right now and I can say that my success thus far has been that I am not moving too fast. I have had to step back many times and be patient with the process as I want to ensure our quality stays the same and that we can keep up.
I have been looking at working with a distributor for Vancouver Island for about a year now and finally think I may be ready. If I make that move, it will be a large step forward.
We have already tripled our sales since rebranding and I am amazed at the success. I have hired two new employees to help with production, and I suggest to others to seek help with all aspects of running a business. There are many resources out there: grants, subsidies and free advice, especially for food businesses.
Another piece of advice that I am wishing I could step back in time and do for myself is to get organized. Get all your files organized and your ducks in a row before launching forward as I did, because the chaos of the day-to-day doesn't allow much time to do that once you are in it. I am desperately trying to get things sorted so I don't drop the ball. And find some tech-savvy folks to help you automate and tech stack your software (new stuff for me) so it will talk to each other and save you tons of time with data entry. I am in the middle of this process and it takes some time for sure.