Shop Local in Cranbrook
Here's a list of local businesses worth supporting in Cranbrook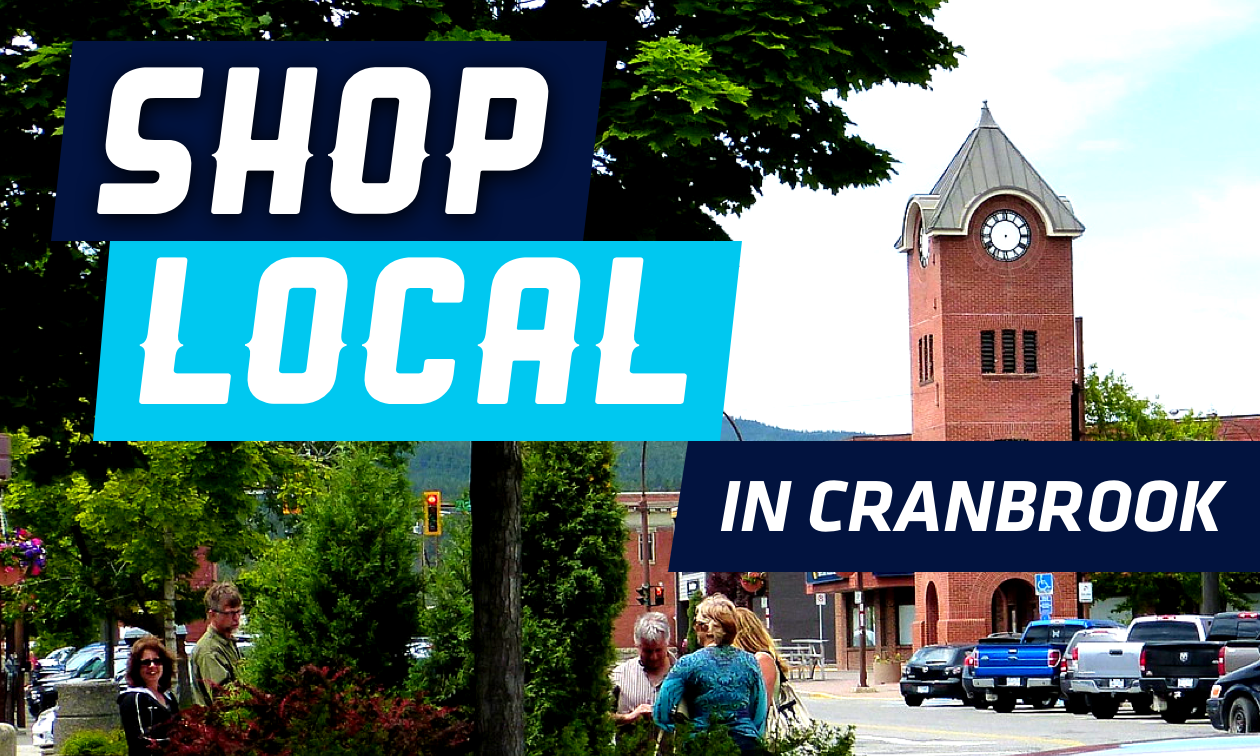 Cranbrook residents are looking to support small businesses. The ability to shop local brings a multitude of benefits: convenience, a boost to our local economy, better and more personalized customer service.
We've compiled a list of local businesses worth recognizing in Cranbrook. We've organized the catalog by city first and then arranged each location into three categories: Retail, Takeout / Delivery and Services.
Have you had a good Shop Local experience? Please fill out this form and help us recognize and continue to support these deserving small businesses.
We also have a Shop Local in the East Kootenay list of businesses.
Show your support for local businesses online by using the #ShopLocal, #KootenayStrong and #ThinkLocalFirst hashtags.
We here at Koocanusa Publications are providing business news on Kootenay Business. For sales and other inquiries, email KPI Media.
Shop Local in Cranbrook:
Retail stores in Cranbrook:
High Country Sportswear: High Country Sports is an independent retailer of premium outdoor clothing, equipment and accessories. Updates on High Country Sportswear Facebook page.
Lane & Meadow Home Decor & Lifestyle: Updates on Lane & Meadow Home Decor & Lifestyle Facebook page.
Kootenay Winecrafters: Winemaking supply store. Updates on Kootenay Winecrafters website.
Cranbrook Flooring: Flooring store. Updates on Cranbrook Flooring website.
Sugar Town Quilt Company: Quilt shop. Updates on Sugar Town Quilt Company Facebook page.
Mountain Man Outdoors: Traditional outdoor store. Updates on Mountain Man Outdoors Facebook page.
Bumble Tree: Baby and children essentials. Updates on Bumble Tree website
Huckleberry Books: Bookstore. Updates on Huckleberry Books website
Sweet Gestures Chocolate Shoppe: Updates on Sweet Gestures Chocolate Shoppe website
Willow Appliances: Products may be viewed by appointment only. Updates on Willow Appliances website.
Seedz Crackers: Handmade gluden-free crackers. Updates on Seedz Crackers website.
Casey's Greenhouses: Florist. Updates on Casey's Greenhouses Facebook page.
Integra Tire Auto Centre: Tire shop. Updates on Integra Tire Auto Centre website.
Top Crop Garden Farm and Pet: Garden centre. Updates on Top Crop website.
Gipman Kitchens & Cabinetry: Cabinet maker. Updates on Gipman Kitchens & Cabinetry website.
Pages Book Emporium: Book store. Updates on Pages Book Emporium Facebook page.
Jewels on Ninth: Jewelry store. Updates on Jewels on Ninth Facebook page.
Nutters Everyday Naturals: Health food store. Updates on Nutters Everyday Naturals website.
Rangeland Equipment: Tractor dealer. Updates on Rangeland Equipment website.
Takeout / Delivery restaurants in Cranbrook:
Kootenay Farm to Folk: Offering weekly food box orders. Go to Kootenay Farm to Folk website to order.
Bull River Inn: Pub. Updates on Bull River Inn Facebook page.
Rick's Fine Meats & Sausage: Wide variety of meats, smokies, deli meats, cheeses, pre-packed freezer meals, groceries and dry goods. Updates on Rick's Fine Meats & Sausage Facebook page.
Cobs Bread: Bakery. Updates on Cobs Bread Facebook page.
Perry's Pizza & Grill: Pizza and pasta restaurant. Updates on Perry's Pizza & Grill website
The Raw House: A food company that makes real, whole, naturally good food. Updates on The Raw House website
Sakura Sushi and Grill: Japanese restaurant. Updates on Sakura Sushi and Grill Facebook page
The Heid Out Restaurant and Brewhouse: Updates on The Heid Out Restaurant and Brewhouse Facebook page
Allegra Restaurant: Fine Mediterranean cuisine. Updates on Allegra Restaurant website.
Rocky's Donair: Restaurant. Updates on Rocky's Donair Facebook page.
Service businesses in Cranbrook:
Koocanusa Publications: Providing business news via Kootenay Business. For sales and other inquiries, email KPI Media.
Kootenay Therapy Center: Visit Kootenay Therapy Center website to set up an appointment.
Ray's Music: Music store offering lessons, instruments and accessories, consignments, collectables, pro audio and rentals. Updates on Ray's Music website
Robin's Ink and Taxes: Income tax, bookkeeping, payroll and ink. Updates on Robin's Bookkeeping and Taxes website
CBI Health Group: Physiotherapy and exercise therapy. Updates on CBI Health Group website
Cranbrook Lighting Ltd.: On-site consultations with help designing electrical layouts and lighting solutions. Updates on Cranbrook Lighting Facebook page
Dean's Plumbing and Heating: Specialists offer plumbing, heating and air conditioning services to keep things comfortable in your home or business. Updates on Dean's Plumbing and Heating website
The Playpen: Pet boarding and grooming service. Updates on The Playpen website.
DLC Canadian Mortgage Experts: Mortgage broker. Updates on DLC Canadian Mortgage Experts website
Kootenay Health Centre: Holistic family health care centre. Updates on Kootenay Health Centre website.
Peak Family Dental: Dental clinic. Updates on Peak Family Dental website
Freedom Business & Tax Centre: Bookkeeping service. Updates on Freedom Business & Tax Centre website
Wally Eddy at IG Wealth Management: Financial consultant. Updates on Wally Eddy at IG Wealth Management website.
Kootenay Landscape: Lawn care service. Updates on Kootenay Landscape website.
Sandy Smith Personal Real Estate Corporation: Realtor. Updates on Sandy Smith Personal Real Estate Corporation website.
Cranbrook Pest Control: Pest control service. Updates on Cranbrook Pest Control website.
Tanglefoot Veterinary Services: Veterinarian. Updates on Tanglefoot Veterinary Services website.
Carstar Signal Collision: Auto body shop. Updates on Carstar Signal Collision website.
Is your business missing from our Shop Local list?
Local business owners in Cranbrook, if you don't see your business included on this page and you are currently in operation, please fill out this form.