Christina Lake wayfinding made easy
Exploring the area around Christina Lake just got easy thanks to a new wayfinding app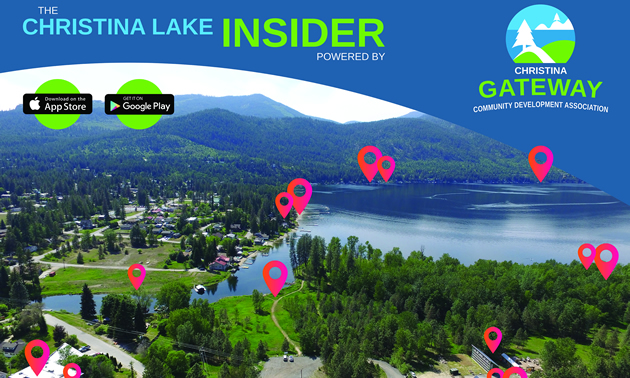 The Christina Gateway Community Development Association (Gateway) recently acquired a customizable wayfinding app for visitors to Christina Lake, and that app is now available via a free download.
Christina Lake Insider mobile app users can collect points that can be redeemed by local merchants. A press release issued by Gateway said, "The app was created using the 468 Insider platform provided by the British Columbia Economic Development Association and 468 Communications."
Donna Wilchynski, community co-ordinator with Gateway, said, "It's an incredible wayfinding app that will help our local economy. The Gateway board chose to use some of our funding from the RDKB (Regional District of Kootenay-Boundary) for the app, as it ties in with our strategic plan for economic development.
"It was important to us to find something that will keep visitors and residents engaged and at the same time support our local businesses year round, and the Christina Lake Insider does all of this. In addition to our summer activities, we have a winter festival in January, and we have skiing, snowshoeing, skating and snowmobiling all winter long.
"We'll be able to promote our seasonal events on the app as well as our businesses and our recreation. It's like a directory of our local businesses and amenities—it's storytelling for the economy. It's also an events calendar, and we're really excited about it."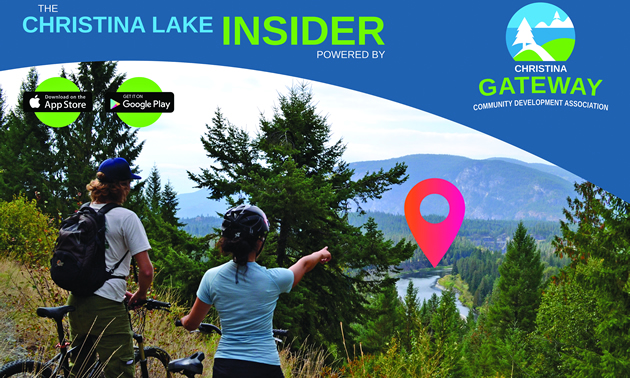 A May 7, 2018 press release from Gateway said:
With the support of Christina Lake's elected official Grace McGregor, Donna Wilchynski presented the project to the Christina Lake Tourism Society, who Wilchynski wanted as an important local partner. "Partnering with Gateway to bring this free mobile app to Christina Lake made sense and will benefit the community as a whole," said tourism manager Cindy Alblas. "The Christina Lake Insider app will not only show people where to go, it will reward them for going there. This is good for visitors, residents and local businesses."
"The Christina Lake Insider creates a unique, fun and engaging experience which supports our local businesses," said Wilchynski. "It's a win-win and helps us achieve our mission of strengthening the community."
The Insider app offers visitors the convenience of easily locating Christina Lake's amenities, points of interest and recreation, and the benefit and pleasure of earning discounts on goods and services from participating merchants.
The Christina Lake Insider app is available now as a free download on the iTunes App Store and Google Play.