With winter approaching, it's time to plan ahead for safe driving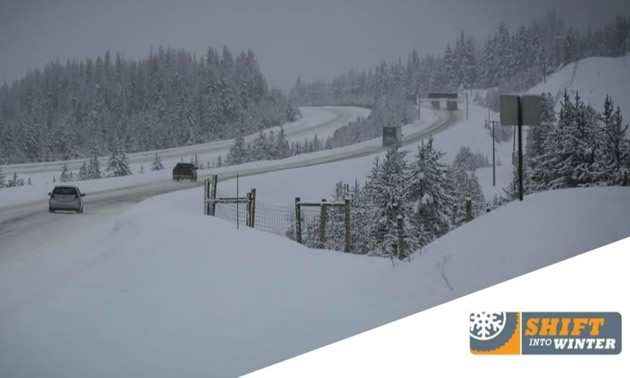 With the arrival of the first few flakes of snow in the Kootenays comes the start of the 11th annual Shift Into Winter driving campaign. The chance of being injured or killed in a motor vehicle crash in British Columbia increases dramatically in winter and that's why the Winter Driving Safety Alliance is reminding motorists and employers to plan ahead and drive safely in winter conditions.
The Shift into Winter campaign includes a website—ShiftintoWinter.ca—that provides information for motorists and employers on how to stay safe on the road this winter, whether they are driving for work or pleasure. Winter conditions such as colder temperatures, rain, snow, black ice, reduced visibility and fewer daylight hours can present serious hazards for all drivers, professional and otherwise.
The Winter Driving Safety Alliance offers the following tips for motorists:
Install a set of four matched winter tires. Winter tires are required on most routes in British Columbia from October 1 to April 30. Use winter tires that carry the mountain/snowflake winter tire symbol and with tread no less than 3.5 mm – even when driving a 4 X 4 vehicle. Tires marked with an M+S (Mud and Snow) are also legally acceptable but do not provide the same degree of performance as a mountain snowflake tire in severe winter conditions. Winter tires improve driving safety by providing better traction in snow, slush and icy conditions. Check for wear before installing the tires and check tire air pressure frequently, as it decreases in cold weather.
Give your vehicle a pre-season maintenance check-up. Make sure your battery, brakes, lights and fuses, cooling and heating systems, electrical and exhaust systems, and belts and hoses are in tip-top shape. Preventative maintenance is key.
Keep an emergency kit in your vehicle. Even if it's never used, it's better to be prepared for possible roadside trouble. Recommended items include: non-perishable food, a warm blanket, first-aid supplies, a flashlight and extra batteries, and matches or a lighter. It's also a good idea to carry a shovel, sandbags for extra weight and a traction mat or sand/kitty litter in case you find yourself stuck.
Conditions change, so be prepared and plan ahead:
Check current road and weather conditions on DriveBC.ca. If possible, postpone your plans and avoid driving when road and weather conditions are poor.
Plan your route ahead of time. Tell someone where you're going and when you expect to arrive and avoid any roads that may become dangerous during bad weather.
Slow down. The posted speed limit is the maximum speed under ideal driving conditions. If inclement weather hits, slow down and drive with extra care.
Maintain a safe following distance. Look ahead and keep at least four seconds of distance between you and the vehicle in front.
Invest in winter driving training. Learn how to brake safely, get out of a skid, and how your car handles in winter weather.
More tips for motorists on how to prepare themselves and their vehicles can be found on ShiftintoWinter.ca.