Unwind at Indigo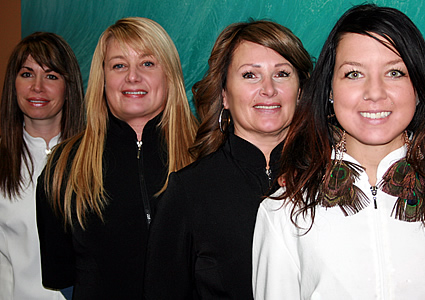 It has been nearly two months since the grand reopening of Indigo Spa in Fernie, B.C. After three years in business, the spa burst through the walls into the neighbouring space (formerly home to Re/Max offices) and added a host of new services to the menu.
Lisa Giudici, wellness treatment specialist, has joined the team and offers several new technologies. The new hydro massage table is designed to give clients an experience tailored to their own preferences, perfect for those uncomfortable with traditional massage therapy. Because clients don't have to remove their clothing, and treatments start at 10 or 15 minutes, it has become a popular treatment to take in over the lunch hour.
Also newly offered is light therapy, which uses infrared light to boost collagen in the skin, and improve acne, cellulite and circulation problems, according to Giudici. Add an oxygen treatment to nearly anything offered in the spa, and choose from several aromas designed to relax you while treating migraines, altitude sickness, and even hangovers. The spa also offers a quality stand-up tanning booth.
Giudici is thrilled with her new venture in the spa industry. It's a big change from her former employment in realty, but the atmosphere, staff and clientele have won her over for good.
Book an appointment online at Indigo Spa's new website, call 250-423-5007 or drop by 472 2nd Avenue in Fernie.