Oh Crumbs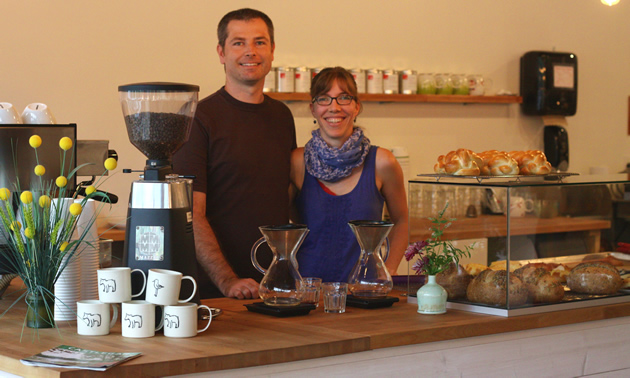 Crumbs is a small artisan bakery café that is in its first year of operation in Castlegar, B.C. It's popular with locals looking for fresh baking, excellent coffee or a homemade lunch.
Husband-and-wife owners Susi and Colin Thomas are dedicated to creating the best possible products for their customers.
"We are the only place in town that offers fresh artisan breads daily," said Susi, who was motivated to start the business thanks to her own desire for quality baking. "One of our best-selling items are soft German pretzels baked fresh throughout the day. Our pastries and lunch items are fresh, healthy, and are what one might find in Europe. We serve only direct-trade single-origin coffee and we brew it one cup at a time for quality and experience."
The Thomases said that they were also inspired to create jobs they would love while contributing to the city's downtown business area. Even before opening they had people leaving Post-it notes on the front doors saying how excited they were that the bakery was opening. Today the couple loves being able to work together and have found that being in charge of their business has been both interesting and rewarding.
"Customers are telling us that we make the best bread or drinks that they have ever had, which tells us that we are doing things right," said Susi. "They really inspire us to create new products. . . . We are really excited about our thin-crust pizza that we are getting close to launching."