New massage therapist at Cranbrook's Kootenay Health Centre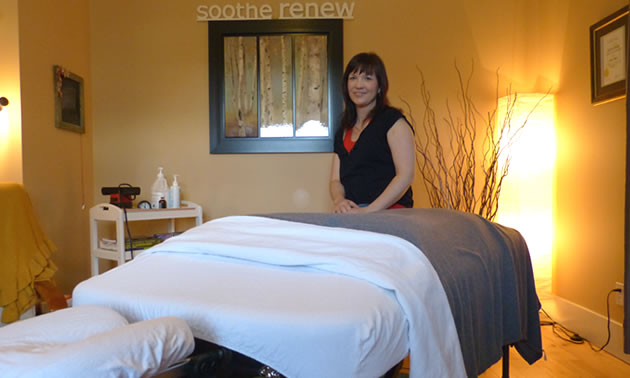 The Kootenay Health Centre in Cranbrook recently welcomed Heidi Wood to its team of highly trained massage therapists.
After receiving her diploma from MH Vicars School of Massage Therapy in Calgary, Alberta, in 2010, Wood—who is originally from Fernie—worked at Sublime Massage in Coleman, Alberta, until she and her family moved to Cranbrook in 2011. Since then, Wood has been working from her home as a registered massage therapist (RMT).
Wood said she enjoys the clinical side of massage therapy. She said health problems, such as plantar fasciitis, rounded shoulders, arm, hip and back pain, shortness of breath and headaches, can be assessed and treated through massage therapy.
"So many people are frustrated because they have been trying for years to get answers to their aches and pains," said Wood. "I love the challenge of looking outside the box and finding areas that might have been overlooked."
Wood's techniques include fascial release—a type of massage therapy that creates movement between the layers of anatomy to help the body rebalance itself.
Wood is excited about her new position at the Kootenay Health Centre. She is available for massage on weekends, in the evenings and on Tuesdays.
"I am trying to fill the gap in the clinic where there is a need for short-notice massages," she said, later adding, "If you need a massage, we will get you in."
Those who are on extended medical should keep in mind that Wood is currently registered by the Massage Therapist Association of Alberta (MTAA). Soon the MTAA will be incorporated by the Alberta Health Care Act and once that happens, Wood will be an accredited RMT in B.C. as well. Until then, insurance and extended health providers will only accept claims by an RMT who is already recognized by the Massage Therapists' Association of British Columbia.
Visit the Kootenay Health Centre website or call 250-489-3200 to book an appointment.