New arena for Selkirk Saddle Club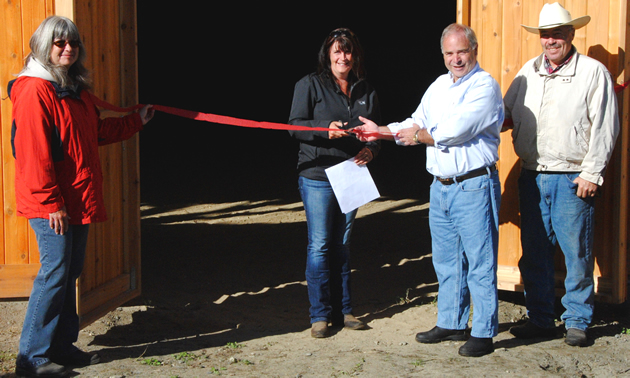 The Selkirk Saddle Club, a non-profit equine organization in Revelstoke, B.C., recently celebrated an exciting new development. On September 13, 2014, the club cut the ribbon on a new indoor riding arena.
"We are excited about the possibilities that the arena brings to the club and the community," said Tanya Secord, secretary with the club. "We will be able to work our horses year-round in a safe environment, which is always best for the horses. The kids can train all year and be ready for rodeos in the spring, if they choose to do so. It also gives us a better facility to host clinics and hopefully some other creative events in the future."
The club welcomes any discipline of horsemanship and has seen its youth membership grow from four to almost 50 members since February of this year. The arena has allowed the Selkirk Saddle Club to offer more programs to the community. It has started youth horsemanship classes and a therapeutic riding program; a wheelchair ramp and lift will be installed in the future. There are also "overnight stalls" available where people can rest their horses during their travels through the Revelstoke area.
The Selkirk Saddle club was able to fundraise $70,000 of the approximate cost of $150,000 for the project.
"It has been a long road in preparing for the construction of this project, as well as the construction itself," said Secord. "It has allowed us to share our equine friends with the community in a much more diverse way."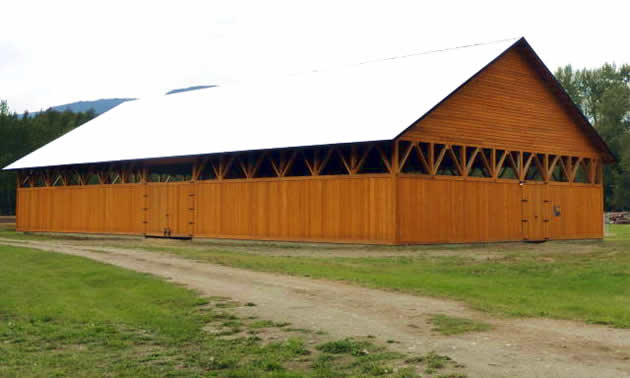 The new indoor riding facility will open opportunities for the Selkirk Saddle Club and the community of Revelstoke.
—Photo courtesy Tanya Secord