New appointment to put Rossland's high school education on the map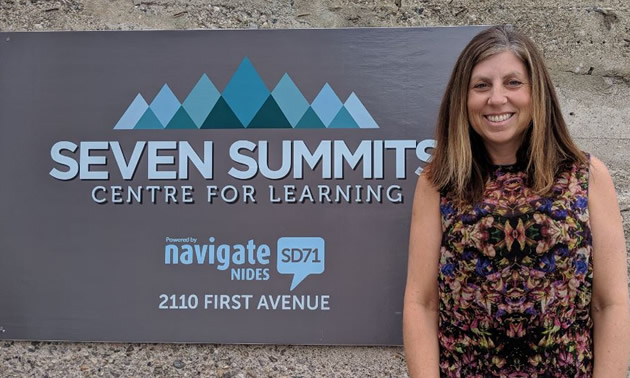 Seven Summits Centre for Learning in Rossland appointed Vivienne Hurley to the new post of youth recruitment and marketing co-ordinator. The Visions for Small Schools Society secured funding for the position from the BC Rural Dividend Program.
Hurley's ultimate aim is to swell student numbers by attracting local and non-local youngsters to Seven Summits' vibrant learning community and to raise awareness among prospective families of its unique cutting-edge learning philosophy, its flexible, blended personalized programs and its many points of difference.
In search of a better work-life balance and attracted to the all-season outdoor adventure that the City of Rossland offered, Hurley made the move to the Kootenays with her family, swapping a coastal home in the U.K. for one in the mountains. In doing so, she stumbled upon an exceptional alternative to a big high school with its small classes, academic rigour, sense of community and the kind of custom education options you would expect from a private school but without expensive tuition fees.
"Seven Summits Centre for Learning is an absolute gem," Hurley said. "The local families, as well as the international athletes who come here to train and study, are so lucky to have such a dynamic and progressive educational resource right on their doorstep." She will work in partnership with its Sports Academies: The Red Mountain Academy (for alpine, freeski and kitefoiling), Black Jack Skier Development (for racing) and Kootenay Danceworks (for dancing) to attract more students into the area who don't want to compromise on their academics in pursuit of their dreams.
"Having already spoken to many Seven Summits graduates, students and parents, it's clear that I've joined a highly supportive, close-knit learning community that is run by people who really care about what is achieved in and beyond the classroom. They enable young people to get so much more out of their high school education than I ever thought possible," Hurley said.
For more details on Seven Summits Centre for Learning, call (250-362-7772) or e-mail
([email protected]). Registrations are still being accepted and applications are available online: sevensummitslearning.com.