'Man in Motion' gains momentum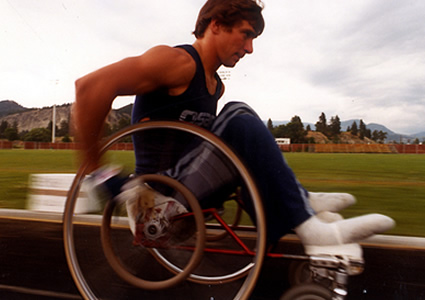 Canadian icon Rick Hansen is scheduled to attend the annual sturgeon release festival in Castlegar on April 23.
Previously, Hansen has been involved with the Fraser River Sturgeon Conservation Society and the sturgeon conservation surcharge stamp program. He is passionate about conservation initiatives and well versed in the problems that plague this endangered species. Hansen will be working with the Upper Columbia White Sturgeon Recovery Initiative on a recovery plan that educates communities about environmental conservation.
"The kids love it because it is like handling a prehistoric creature—they have been around for, like, 150 million years," said Angus Glass, the communications co-ordinator for the Fish and Wildlife Compensation Program in the Columbia region. "They're the largest freshwater fish in North America and they live for an extremely long time—over 100 years—and they can grow up to the length of a canoe."
The sturgeon release will take place at Hugh Keenleyside Dam (southwest side) near Castlegar on Monday, April 23, 2012, at noon and the event runs until 3 p.m. Hansen is scheduled to be on site for a speech at the opening of the event around 12:10 p.m. and he will leave at 1 p.m.
For more information, read the full article.