Creston landmark gets a new lease on life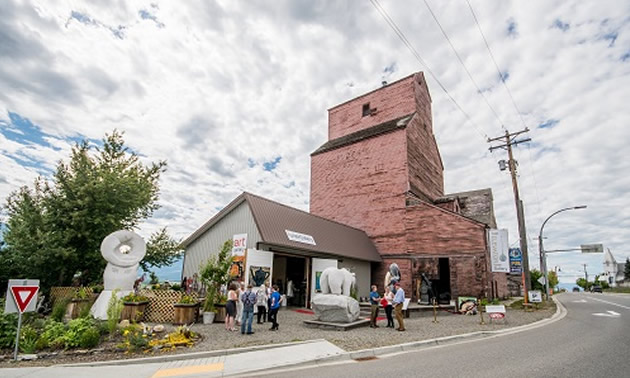 First erected in the early 1930's, the pair of weathered grain elevators that stand beside the CPR railway tracks in the small town of Creston, B.C. seem out of place. More fitting in a prairie landscape than one surrounded by mountains, the structures represent a Canadian symbol that is rapidly disappearing—the Creston elevators are two of just four remaining wooden grain elevators left in British Columbia.
The two elevators, approximately six storeys high, were built in 1935 and 1936 and were used to collect, store and ship locally grown wheat, barley, oats and rye. They closed in 1971 and 1982 and have seen little use or major upkeep since. To ensure their structural integrity and historical preservation, Columbia Basin Trust has become their new owners.
"These elevators are priceless and so iconic for the town of Creston because of its agricultural heritage," said Johnny Strilaeff, President and CEO, Columbia Basin Trust. "The previous owner, Ray Gauthier, put in his own labour to clean and maintain them, and now additional work must be done. We are acquiring the elevators to ensure they can be properly preserved and maintained for future generations to enjoy."
The Trust is committed to helping preserve the region's history and share it with future generations. In some cases, this means supplying a grant to help a community group or local government to conserve an important building.
"There are lots of potential uses [for these grain elevators], and when the time comes we'll engage with the community to consider the options," said Strilaeff. "The key is to give them a modern purpose—they won't just be part of the landscape, but actually useful."
In 2018/19 the Trust committed $62.6 million in programs, services and investments to positively impact the communities and people of the Basin. Preserving heritage is one of the Trust's strategic priorities. To learn more, visit ourtrust.org/heritage.