Buy, sell and trade in Slocan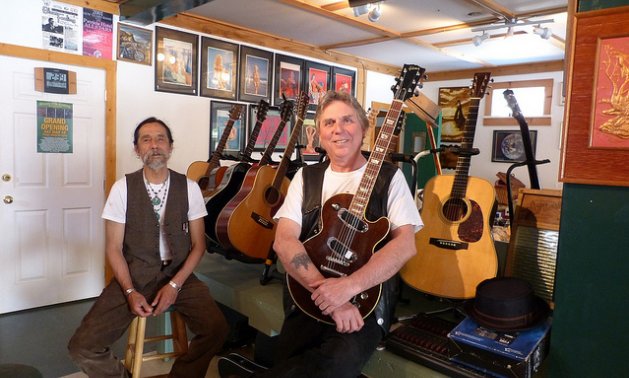 John E. Pettigrew and Pedro Montoya have teamed up to create Slocan's newest hot spot. Slocan City Trading Co. opened to the public on May 18, 2013. Behind its doors you'll find everything from antique musical instruments to handmade Mexican jewelry and local art.
Pettigrew, a retired crane operator, opened the Trading Company after moving from Edmonton with his then roommate, Montoya. A musician at heart, Pettigrew's love of old guitars is clearly shown by his inventory, but he also carries banjos, mandolins and more, and tunes and repairs pianos as part of his repertoire. Montoya, originally from Mexico, makes jewelry and multimedia art.
"He's a regular Picasso," said Pettigrew. Live music brought a jubilant vibe to the grand opening, and there's more to come of that, said Pettigrew. Performances by local bands will be a regular scene at the Trading Company. Read about upcoming events on their Facebook page. Drop by for a visit on the corner of Harold and Delany in Slocan.