A new branch manager at Cummins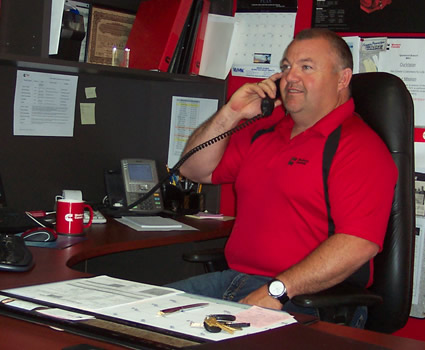 Stephen Jarvis is the new branch manager of Cummins Western Canada in Sparwood, B.C. Jarvis, who is originally from Millet, Alberta, brings 20 years of experience in Western Canada's mining industry into play.
After graduating from high school in Wetaskiwin, Alberta, Jarvis obtained a business degree from Athabasca University, and thereafter went to work for Air Canada and then Bucyrus International Inc.—which is now owned by Caterpillar Inc.—before he started a machine shop for natural gas compression in Edmonton, Alberta. After that, he went back to work for Bucyrus as a product support manager, and then he became the general manager and sales manager at Scott Pump Service Ltd. in Edmonton. Shortly after he left his position with Scott Pump Service Ltd., Jarvis got a job offer from Bill Lapp, who is the vice-president of mining for Cummins Western Canada, to become the branch manager of Cummins Western Canada in Sparwood. He accepted the offer and started working there on January 3, 2012.
For the first six months, Jarvis commuted back and forth from Fernie to Edmonton to visit his wife every second weekend, but the couple finally moved to the Elk Valley at the end of June. Jarvis said they had been thinking about moving to the Elk Valley for the past five years.
Although his roots are planted in Alberta, Jarvis said that he enjoys working and living in the Elk Valley.
"I love Edmonton and I'll always be an Oilers and Eskimos fan no matter what, but just the quality of life (and) the lifestyle—it's just healthier," said Jarvis, "and I think it makes you more productive in this part of the world."
Jarvis replaces Dale DeClercq as branch manager of Cummins Western Canada in Sparwood. According to Jarvis, DeClercq has moved to Kamloops, B.C., to work for P&H Joy Global Inc.
Expansion plans
Cummins Western Canada in Sparwood is a field-service branch with a total of 29 employees. The branch is responsible for commissioning and servicing the high-horsepower diesel engines that power large equipment—primarily haul trucks—at all five of the coal mines owned by Teck in the Elk Valley.
To meet the growing demands of the mining industry, Jarvis said there are plans to expand the branch in Sparwood. He said within two years, it will become a complete service branch with two bays. That means the branch will also be hiring some additional employees.