Trail clinicians take massage therapy beyond the spa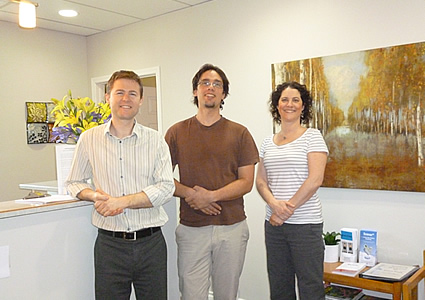 Lizette Tucker opened a new business in Trail last spring and she's constantly making improvements.
Tucker, a registered massage therapist (RMT) and the owner of Trail Integral Therapeutics, values her co-workers because they can treat patients through a diverse set of skills. Tucker, Damian John and Ryan Carnahan have received training beyond the scope of a regular RMT, allowing patients to take advantage of several additional benefits.
"We have quite a few angles covered in the office," said Tucker. "We inter-refer between ourselves so that people actually receive the best quality of care that they can."
Tucker custom fits compression hosiery and has training in SCENAR therapy, which utilizes a hand-held device that stimulates the skin while treating areas of concern. John concentrates on rehabilitation through the use of Kinesio taping, an approach that relies on an elastic tape that manipulates skin to enhance one's range of motion. And Carnahan is a registered homeopath who is currently completing a doctorate in Chinese medicine. He is also learning the intricacies of acupuncture.
"I do my best to help people," said Tucker. "If somebody has had an accident, I always try and make sure that people get some treatments right away. Massage therapy is not a spa treatment, we're focusing on rehabilitation."
The trio of practictioners at Trail Integral Therapeutics is a dedicated team of professionals who are always looking for ways to improve their treatments. Recently, Tucker attended the Third International Fascia Research Congress, hosted by the Massage Therapists' Association of B.C., in Vancouver. The three-day conference allowed clinicians to learn practical applications and gain insight into the human fasciae and its functions.
"There's lots I could tell you about," said Tucker. "It's more than just a business, it's about helping people stay happy and healthy."
For more information, call 250-364-1433.