70 active programs supporting Basin residents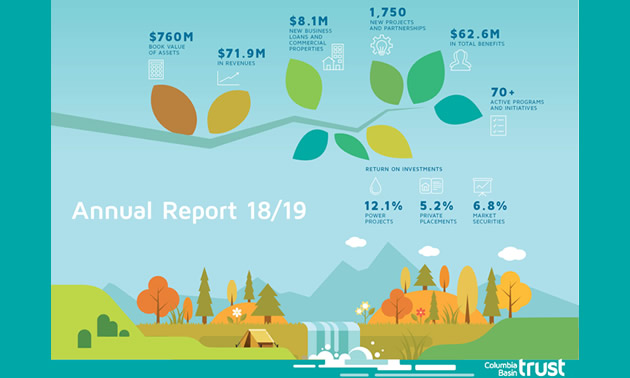 Thanks to a strong year for its investments, Columbia Basin Trust is now providing over 70 programs and initiatives to Basin Communities. Revenues from combined investments in hydropower facilities, real estate, market securities and business loans grew to $71.9 million this year, a gain of over $7.9 million compared to the previous fiscal year. The sale of hydropower and power projects accounted for approximately 80 per cent of the Trust's revenue as released in its 2018/19 Annual Service Plan Report.
"The performance of our hydropower facilities once again surpassed our expectations," said Johnny Strilaeff, Columbia Basin Trust President and Chief Executive Officer. "The focus on managing these assets to ensure reliability resulted in fewer unplanned outages. And now with the purchase of the Waneta Expansion Generating Station, Basin residents will enjoy even greater benefits now, and in the future, as more of the revenues are injected back into this region."
In 2018/19 the Trust committed $62.6 million in programs, services and investments to positively impact the communities and people of the Basin. This included $1.9 million for infrastructure to expand broadband and help develop the economy, $8.1 million for business loans and real estate investments, plus financial support for 1,750 projects and partnerships.
The Trust's Columbia Basin Management Plan sets out 13 strategic priorities to guide its work supporting Basin communities from 2016 to 2020. Next year, the Trust will begin consulting with people in the region to renew them.
"We're looking forward to connecting with people to imagine the possibilities," said Strilaeff. "We want to hear their bold and innovative ideas that will help shape the future of how we live, work and play in the Basin."