Tyler Beckley, cowboy businessman
Sharing his love for the Kootenay lifestyle is Tyler Beckley's strongest motivator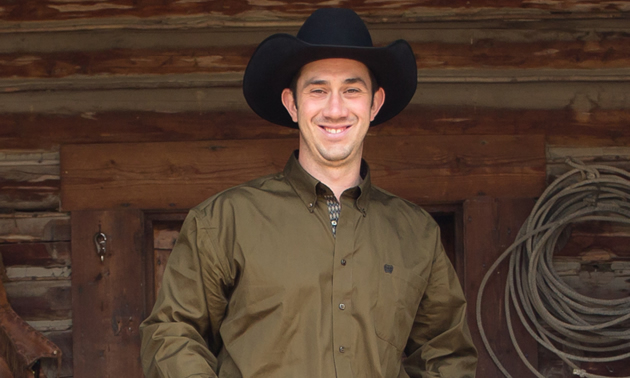 Tyler Beckley grew up on his family's ranch, Three Bars Guest & Cattle Ranch, near Cranbrook, B.C. He told Kootenay Business magazine that he has always enjoyed the family business, and said, "After I returned from college, having been away from the Kootenays and the ranch, I realized there was no question that this is what I wanted to do."
We asked Beckley to tell us a bit more about himself and his business.
What is it about your work that has you excited to get out of bed in the morning?
It's a great thing to help other families experience our way of life here in the Kootenays that we all enjoy. The vacations we offer are typically full of firsts for our guests. Whether that's their first ride on a horse, first fish, first time shooting a gun, or just first time roasting a marshmallow, it's a very powerful experience for people to go though, and I get to guide them through every step. I also like the diversity that it offers. I'm very fortunate that the business turns in a yearly cycle. In winter we work on promotion and reservations. Spring is all about getting ready and training staff, then from the end of May to October we will run full-on, and that brings a whole new set of challenges. Then by fall we are winding down, preparing for winter and the cycle to start again.
Where do you like to spend your downtime in the Kootenays?
My wife Jenna and I love spending our down time skiing, fishing, hunting and introducing our kids to all the great things that I experienced growing up in the Kootenays. I'm exposed to people every day who remind me how truly lucky we all are to live here. It's always a bit of a wake-up call to get out and enjoy what is just outside our back door.
What has motivated you throughout your entrepreneurial journey?
I've been fortunate to have a strong family and very supportive business partners who have supported the vision of Three Bars Guest Ranch and allowed me to successfully push Three Bars to become a world-class destination. Our drive has always been to offer our guests the best possible experience. To do this we have had to adapt and change in many ways to keep up with the changing travel market, but it keeps things interesting and challenging. Those challenges and the satisfaction of delivering a life-changing experience to our guests are what drive us to get better every year.
What makes the Kootenays attractive to an entrepreneur?
Besides the obvious fact that you get to live here, the tourism sector here in the Kootenays holds incredible potential for entrepreneurs—especially for small and medium-size businesses. As the Kootenays see more and more visitors, there is a true shortage of services, from restaurants to guided excursions. People want to experience the Kootenays and all that they have to offer, and in many cases they need our local expertise to do that. There are still many challenges that the region will need to address in order to maximize its potential in tourism and other sectors. Transportation and air access, affordable housing and a significant labour shortage are just a couple of the issues.
What trends have you observed in your community that might impact the local economy in the next five years?
I believe tourism will continue to have a major impact on the overall local economy. Tourism as a whole in B.C. is seeing incredible growth, and as you see more traditional B.C. destinations hit their capacity, I believe you will see more and more "spillover" into our region. Compound that with the weak Canadian dollar, free national park access, Canada's 150th and Canada being named the number one destination for 2017 by the New York Times, and I think we are going to see great results in tourism over the next three to five years.
Did we miss anyone? Meanwhile, if you think we missed someone who should have been nominated, we'd be happy to consider them for inclusion on next year's list. Click here to nominate your pick for the 2018 40 under 40 list.
2016 40 Under 40 List See who made the 40 Under 40 list in 2016.