The latest 40 under 40 list is here
Our 2017 list salutes our younger business people in the Kootenays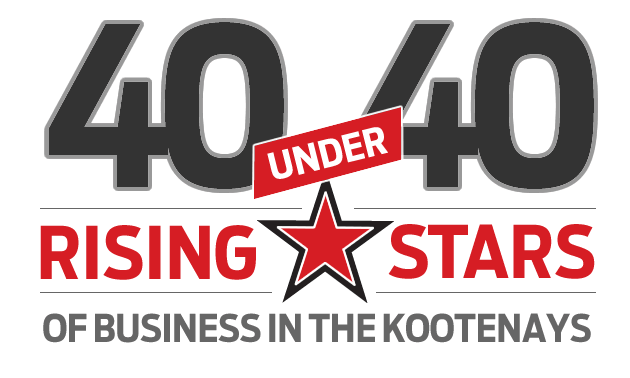 Our second annual 40 under 40 feature is a salute to the Kootenays' leading entrepreneurs. The younger business people listed here were nominated by our readership. Many thanks to the nominators for their kind and revealing comments. And congratulations to all those on the 2017 40 under 40 list. We wish you much future success.
Without further ado, here they are, arranged alphabetically by city.
Castlegar
CHARLOTTE FERREUX, founder & consultant
Thrive Consulting
This Certified High Performance Coach is the founder of Thrive Consulting, not to mention her podcast, called Change by Choice. She helps businesses create a people-focused culture and teaches spin classes on the side.
Castlegar
KRIS KOOP, owner
Blue Barn Pet & Hobby Farm
This lifelong animal lover listens to and loves the companion creatures he serves through his business; oh, and he gets along with their human owners too.
Castlegar
ADAM POMEROY, co-owner
Cycology Bikes Inc.
Bikes of all kinds figure large in every aspect of this man's life. His business allows him to have fun, stay fit and enjoy his environment while encouraging others to do the same.
Castlegar & Trail
SARAH HOLLIDAY, owner
Bagels and Brew
Customers and espresso make this café owner's world fast-paced. Her first location in Castlegar was such a success that she opened a second store in Trail.
Cranbrook
TYLER BECKLEY, owner & general manager
Three Bars Guest & Cattle Ranch
Beckley grew up on his family's ranch near Cranbrook, went away to college, then succumbed to the pull of returning to the family business. Now he thrives on guiding his guests through exciting new experiences.
Cranbrook
CLINT EATON, owner
Cranbrook Flooring Ltd.
Taking over the family business after his father's passing, this hard worker believes that floors can set the tone for a room or entire house. He said he lives off the smiles of folks walking into their new homes.
Cranbrook
ROB PORTER, owner
Just Liquid Sports
Growing up in Ontario—where every city had a padding community—this outdoor enthusiast came to Cranbrook on holiday, fell in love with the area and moved here to start a watersports business.
Cranbrook
AARON & SHARON SHUTTLEWORTH, owners
Corduroy Life
This couple enjoys the creativity and freedom afforded by running an independent sales agency. The company represents clothing and apparel brands for the surf, snow and outdoor industries, and the Shuttleworths are keen on the outdoor lifestyle themselves.
Cranbrook
JON WEDEL, founder
Flex Commerce
The founder of this e-commerce company is something of a local wunderkind. Now in his early 20s, he started his first website at the tender age of 14.
Creston
JEN COMER, market manager
Creston Valley Farmers' Market
As the farmers market manager, Comer has grown this venue from a three-month summer market with about a dozen vendors to a year-long market with an average of over 40 vendors. Most importantly, the market has become an incredible business incubator.
Creston
JUSTIN STORM, president and general manager
J.H. Huscroft Ltd.
This young man learned the lumber business from the ground up, starting as a teenager, and is now one of the youngest and most innovative managers in the lumber industry in the Kootenays.
Creston
CHAD WOBSHALL, owner
Kootenay Crate Co.
As a family man, this entrepreneur loves the freedom that comes with self-employment, and he is very appreciative of running a woodworking business in his hometown.
Fernie
LISA CHRISTOPHER & AMBER BIBERDORF, owners
PropertyGuys.com
This dynamic duo is passionate about doing business in the Kootenays, where there is a genuine recognition of the role that small business plays in the local economy.
Fernie
JENNIFER MITCHELL, owner
White Ladder Painting
The trades may be male-dominated, but that hasn't stopped this entrepreneur, who owns her own painting company and is the founder and a member of Build Train, an umbrella company of building sub-trades.
Fernie
SHANTELLE & ANDY WEIR, owners
Weir Boondocking
For this couple, running a business is like going snowmobiling every day. The company offers riding clinics for both entry-level and experienced snowmobilers, and the Weirs find great joy in coaching their clients.
Golden
SAM KING, owner
Ride The Vibe
This young Golden resident, a transplant from Australia, is a professional motorcycle trials rider who has turned his interest in extreme sports into a thriving business. He connects top athletes from around the globe and presents motorcycle stunt shows at various events.
Golden
MARLOES VAN LENT, owner
Day2Day Books
Settling into Golden was as straightforward as balancing the books for this woman, who moved from the Netherlands to Golden, eventually starting a bookkeeping service for small businesses and not-for-profit organizations.
Grand Forks
CHRIS FUHS, owner
Ace's Pit Stop
The owner and operator of this new-and-used tire shop is known for his reasonable prices, good service and community-minded attitude—he supports Junior B hockey and other worthy causes.
Invermere
KARI ASSELIN, owner
OM Organics Boutique Apothecary
This entrepreneur found her niche in the "green" beauty world; she creates skin care products that are natural, affordable and accessible.
Invermere
JOCELYN BRUNNER, owner
Summit Footwear & Fashion
This businesswoman has a foot in both worlds: her Invermere store and her kids' school days and activities. Purchasing a shoe store in her husband's hometown was "the best decision we have made for our family," she said.
Invermere
LEANNE TEGART, co-owner
Arrowhead Brewing Company
The Kootenay lifestyle, people and customers keep this businesswoman excited about the region and her business. "There's never a boring day at a brewery," she said.
Kimberley
DENAI BELL, co-owner
Arrow and Axe
This woman, along with her husband, is part of the new wave of younger business owners reviving the Platzl, Kimberley's pedestrian-only shopping district. Their store's eclectic merchandise reflects the Kootenay landscape.
Kimberley
KARI LOFTSGARD, co-owner
Creekside Physiotherapy
The community that she treats and the team that she works with make it all worthwhile for Loftsgard. She also greatly enjoys the Kootenay lifestyle, from golfing and skiing to hiking with her family.
Kimberley & Cranbrook
ALLISSA KEANE, owner & acupuncturist
Fruition Wellness
Keane is a registered acupuncturist who fulfilled her vision of a collaborative health and wellness centre where professionals come together for the betterment of their clients. She specializes in women's reproductive health and has expanded from her first location in Kimberley to a second one in Cranbrook.
Kimberley & Cranbrook
GRADY PASIECHNYK, owner
Wine Works
As the owner of two Wine Works shops, this young entrepreneur created his own opportunities in order to facilitate moving back to his beloved hometown of Kimberley. Plus, under the banner of Kootenay Media, he is the publisher of Go Kimberley and Go Cranbrook magazines.
Nakusp
AUTUMN GROSSUTTI, owner
Betty'z Edje Boutique
This "mompreneur" works and walks to the beat of a different drum: her own. Independent and original, she stocks her boutique with unique, fresh items from the Kootenays and afar.
Nakusp
AIDAN McLAREN-CAUX, owner
AMC Naturals
This entrepreneur has not one but two directions for his business, both because of the birth of his twin daughters. The high price for two wooden high chairs drove him to make two of them himself and then he started making organic personal care products for his babies.
Nelson
MACKENZIE HOPE, manager
Hall Printing
As with many young folks, this man got into the business world through his family. Now Hope enjoys the challenge of staying on top of industry and technology trends in the family printing business.
Nelson
ROB LITTLE, general manager
Adventure Hotel
Success stories are highly variable. Little took a bartending job at a ski resort while taking a year off from university and became fascinated by the hospitality industry. The rest is history at this 100-year-old hotel.
Nelson
SCOTT, SHAWN AND CAM ROBERTSON, owners
Taghum Shell
Talk about a success story: three brothers buy a gas station/store. After 20 years of great service, the franchise received an award from Shell, naming it the Number One Shell Dealer in Canada last year.
Nelson
CRAIG SWENDSON, owner
Torchlight Brewing Co.
Making beer is both art and science, which suits Swendson well. He's said it's a fun business, and "good beer tends to make everyone have a better day."
Nelson
STEVEN THOMSON, CEO
9dot Engineering Inc.
Pushing the envelope is the norm for this dynamic engineer and his company. The professionals there pride themselves on thinking outside the box, whether in the office, in the lab or out in the field.
Revelstoke
FRASER BLYTH, founder and community planner & designer
SELKIRK PLANNING & DESIGN
With a spirited commitment to his profession, Blyth enjoys creative problem-solving and recognizes that working on the built environment means that he leaves a mark on the community for future generations.
Revelstoke
DIANE BULL, co-owner
Style Trend Clothiers
With her husband, Steve, Bull has taken her store worldwide with a chic website and an interactive social media experience for customers. It's also perfectly OK, of course, to visit the physical shop in Revelstoke and check out the latest styles and trends.
Revelstoke
GREG HOFFART, owner
Tree Construction
The owner of this company focuses on building homes that are healthy, efficient and environmentally sustainable. In short, he wants to do his bit in terms of making the future better for future generations.
Rossland
ALICIA GRAY, owner
Bombshack
With a great tagline—"Retail and Resale for Wildlings"—this store not only clothes local children but also gives them a voice by showcasing their art and craft items. Store owner Gray thrives on being a role model for them too.
Rossland
JORDAN STROBEL, co-owner
Apex Multimedia and Ebon Supply Co.
Just 19, Strobel has already founded two companies: Apex Multimedia, a video production and content marketing company (with partner Keelan Bourdon); and Ebon Supply Company, a sports apparel business (with Tim Baldwin). Amazingly, Strobel is also a certified drone pilot and full-time university student.
Sparwood
SARINA BERAN, owner
Sparwood Remedy's Rx
This pharmacist enjoys small-town living, supporting her customers to have better health and a work/life balance that is one of the Kootenays' trademarks.
Sparwood
CAYLE PASIECHNYK, owner
Elk Valley Greenhouse & Landscaping
How does one get into the landscaping business? By cutting grass for a few neighbours at the tender age of nine. Pasiechnyk keeps expanding his repertoire and his business, which now includes a greenhouse, snow removal and other landscaping jobs.
Trail
TIM WILEY, owner
Rustic Crust Pizza
This restaurateur caters to healthy, active patrons who prioritize quality, authentic and local food. Pizza makes all environments positive, said Wiley, who makes take-and-bake pizzas.
// Read the full profiles online at:
www.kootenaybiz.com/40-under-40