The business of backflipping a motorcycle
Sam King is the owner of Ride The Vibe in Golden, a unique business based on the lifestyle of action sports athletes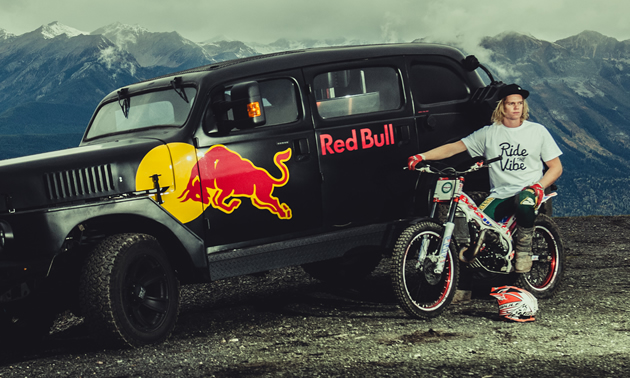 Australian-born-and-raised Sam King fell in love with Canada, and more specifically Golden, B.C., after he came here in the summer of 2014 to compete professionally in a sport known as motorcycle trials. A year later, he decided to make Golden his home base and start Ride The Vibe.
With a focus on extreme sports, King has created a community that connects and supports a variety of top athletes from around the globe. But that's only one side of his business. The other is mobile. With a converted school bus, King and his crew travel to various events, performing live shows, which are based on motorcycle stunts he has perfected over the years. Ride The Vibe merchandise is also available from its travelling headquarters and online.
At 22 years old, King has a lot of drive, passion and ideas. In 2017, he will also be conducting a series of clinics for those looking to improve their motorcycle riding skills.
We spoke with this young entrepreneur to learn more about his journey:
How did you come to choose this line of work?
So I came to Canada with the intention to start up a freestyle trials motorbike performance, so basically having events and an entertainment act. So I'd put on my freestyle trials performances at various events and the first event that I ever went to in Canada was the Red Bull Rocks & Logs event in Calgary (Alberta). About a month prior to that, I had come up with the idea to name my show, Ride The Vibe, and I thought I might as well get some T-shirts made up to sell at the event. That slogan rang in my head, and I feel like I've lived by that line pretty much my whole life, but never actually used that term. So I got some T-shirts made up and went to the event in Calgary and completely sold out of T-shirts on the Saturday before I had even done my main performance on the Sunday. It made me realize this could potentially be a clothing label as well as a freestyle trials performance. From there, it sort of expanded to a lot of things. We sponsor guys in all different kinds of sports, from motorbiking to skateboarding, surfing, snowboarding—all extreme sports. I really like to get behind that because I think we can all relate to each other with our lifestyle. I think Ride The Vibe is mainly a lifestyle thing more so than anything else.
What is your focus for 2017?
My goal for Ride The Vibe for 2017 is very similar to what I set out to do 16 months ago when I founded RTV—that is, to continue to grow the business image and worth by bringing the positive and outgoing people together to create something original. Using high-energy positive activity, such as moto, surf, wake, skate, snow, bike, kit, BASE jumping and so much more, to connect ourselves as well as with other like-minded and stoked people.
Where do you like to spend your downtime in the Kootenays?
In the alpine! I love to travel and explore as much as I can in this beautiful place I now call home. The town of Golden is where I base myself for the majority of my time spent in B.C. I find there is so much room to explore, and so many inspiring features to see and appreciate as an outdoor enthusiast/moto rider.
What has motivated you throughout your entrepreneurial journey?
It's hard to pinpoint one exact reason why I have decided to take on the journey I have created for myself. I think the main reason of taking on life in a different light is because I see so many problems with the workforce world we all partake in and contribute to every day. I've always wanted to take action by living my life the way I'd like to. I think there are a lot of other people who can take from that.
Did we miss anyone? Meanwhile, if you think we missed someone who should have been nominated, we'd be happy to consider them for inclusion on next year's list. Click here to nominate your pick for the 2018 40 under 40 list.
2016 40 Under 40 List See who made the 40 Under 40 list in 2016.