Suzie LaRose
Suzie LaRose is new to entrepreneurship, but she's already learned a lot about it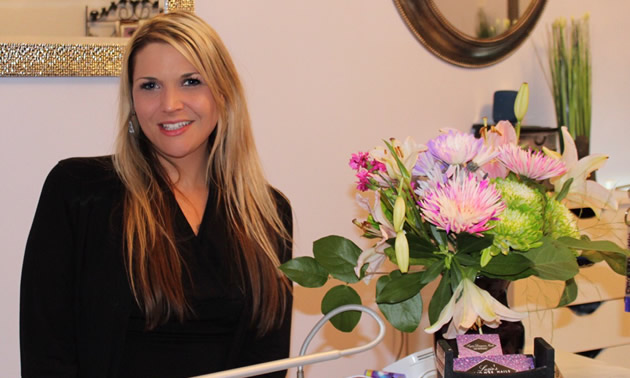 After years of work in other salons, Suzie LaRose opened Suzie's Designer Nails in Castlegar. LaRose has a fine arts degree and is a trained educator for the NSI brand of nail care products. She provides a private, feminine space and professional service for her clients.
LaRose talked with us about what she's learned about being an entrepreneur.
What qualities does a successful business person need in today's world?
A successful business person needs a lot of passion, drive and love for what they do. It's a 24-7 dedication, to keep up with online trends and gain clients, and also treat all clients with respect, kindness and dignity. I find with my business I am constantly learning. I put myself into nail technician upgrading courses for the best brands, taught by world-renowned nail technicians—it keeps me ahead of the game. Plus, my clients love it when I try new techniques I have learned. It also takes a support system, and I have amazing people that I keep around me.
Finish this sentence: Entrepreneurs need a lot more ___.
Local support.
What's a common myth or misconception about entrepreneurship?
That it was given to you, or was easy. Nothing in life worth having is easy.
What makes the Kootenays attractive to an entrepreneur?
I love the Kootenays. I was born and raised in Vancouver, and I spent every summer up here as a kid because my mom was born and raised in Trail. I'm a mom and I love the community aspect—I've met some amazing people up here. My daughter is my world other than my business, and it's great to know we can go hiking, skiing, boating, or go for a beautiful drive—the Kootenays are gorgeous. And I love all the outdoor markets, Art Walk, art galleries and the fact that the Kootenays promotes healthy eating and lifestyle.
What trends have you observed in your community that might impact the local economy in the next five years?
Trends I have noticed is there is a high unemployment rate. I do think we need more jobs created. Cost of housing rentals is very high, not leaving much room for people to buy any extras.