Stephanie Van de Kemp
Steph Van de Kemp believes in teamwork, whether it's in business or in her community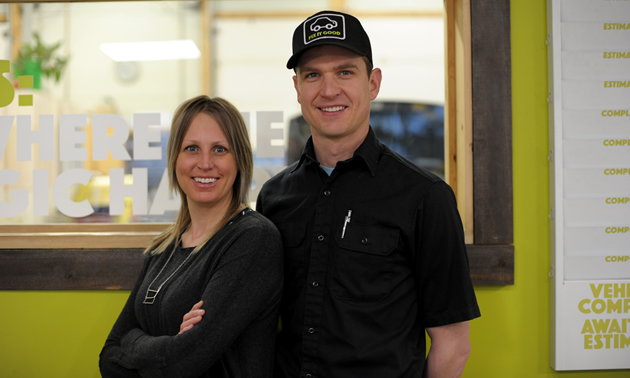 Stephanie and Aaron Van de Kemp are celebrating six years at Cleanline Automotive, their earth-friendly, full-service auto maintenance and repair shop in Invermere. Both are passionate, hands-on advocates for a clean, safe environment, and Steph has championed the calculation of a living wage for the Columbia Valley.
Steph answered our questions about conducting business in this time and place.
What qualities does a successful business person need in today's world?
In today's world, success in business is about so much more than profits—it's about having values, such as honouring people, caring for community and being ambassadors for the environment. There must be a greater purpose to what you're doing.
Finish this sentence: Entrepreneurs need a lot more ___.
Sleep. Especially mom-preneurs! Ha! Apart from sleep, what every entrepreneur needs is a good team. We always say, "teamwork makes the dream work!" We are grateful to have an awesome team.
What's a common myth or misconception about entrepreneurship?
People always think that if you're an entrepreneur, you have to work 24-7. This myth is a dangerous one. Burnout is real. It's one of the main reasons that businesses fail. If you can't manage yourself, you can't manage others. Self-care is so important for entrepreneurs and we've had to learn this, sometimes the hard way.
What makes the Kootenays attractive to an entrepreneur?
#kootenaylife rocks! The lifestyle we enjoy here is unlike anywhere else. Being an entrepreneur comes with its fair share of stress. I think being active in nature is a way to shake off the stress so we can come back to work feeling energized and calm. The Kootenay environment is an inspiration to many entrepreneurs.
What trends have you observed in your community that might impact the local economy in the next five years?
Our community is working toward some cool initiatives to make Invermere an even better place to live and work, especially for young families. There's talk of car-sharing and co-housing and a new child care centre. We are working on a Living Wage campaign and more and more people are starting businesses here. These are all great opportunities for our local economy.