Marloes van Lent: Golden's Dutch bookkeeper
Busy balancing books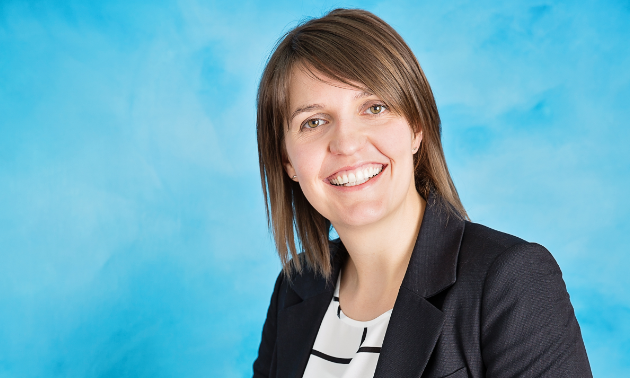 From the land of windmills to the Great White North, Marloes van Lent has found her place in the world. Van Lent moved from the Netherlands to Golden in 2009. In the summer of 2015 she started Day2Day Books, a full circle bookkeeping service for small businesses and not-for-profit organizations in the Golden area. Her business has expanded enough to create full-time job opportunities for local bookkeepers as well.
Van Lent was nominated by Jana Briggs who said, "Marloes' business is a great addition to the community and offers what might otherwise be stay-at-home moms an opportunity to contribute to the business community of our town. I only hear good things about what she delivers as her professional services (yes, she does my books, too!). But what I am mostly impressed with is her dynamic employee/staffing structure that is modern, trendy and right on target for who we are in Golden."
How did you come to choose this line of work?
It happened kind of naturally. I liked numbers and organizing things. In school, math and economic topics had my interest. After high school I was offered a job with my dad's accountant. That's where it all started.
What is it about your work that has you excited to get out of bed in the morning?
It's a combination of things. I like working with numbers. Making sure they balance is the ultimate joy of a bookkeeper/accountant. There is also a very personal side to this career. You really get to know people. Being a sounding board for them is something that makes my job the best job ever.
Where do you like to spend your downtime in the Kootenays?
In the summer, on my bike or hiking in the mountains. In the winter, on my skis. Last summer I spent lots of time in the wetlands and I really enjoyed that.
What has motivated you throughout your entrepreneurial journey?
My motivation is to build something for the long term for my clients and my staff. In small towns, it's hard to find skilled workers for the long term. My experience was that businesses struggled finding continuity when it comes to their bookkeeping. With Day2Day Books I want to fill that gap.
What makes the Kootenays attractive to an entrepreneur?
For me it's the same reason as why lots of people moved here. The work/life balance is great. There are tons of ways to enjoy this beautiful part of the world. Secondly, the community feeling is very strong even for entrepreneurs. I have found a great network of like-minded people that I can fall back on when I run into a situation that I'm not sure how to handle.
What trends have you observed in your community that might impact the local economy in the next five years?
I feel a positive vibe when it comes to new business here in Golden. New people are moving in with new ideas, the ski hill is picking up in visitors and we can feel that in town. I'm hopeful that we as a town can manage this growth successfully, but housing and labour will be a challenge.
Did we miss anyone? Meanwhile, if you think we missed someone who should have been nominated, we'd be happy to consider them for inclusion on next year's list. Click here to nominate your pick for the 2018 40 under 40 list.
2016 40 Under 40 List See who made the 40 Under 40 list in 2016.