Lisa Christopher and Amber Biberdorf: Property gals
Property gals Lisa Christopher and Amber Biberdorf are empowering Kootenay residents to sell their homes on their own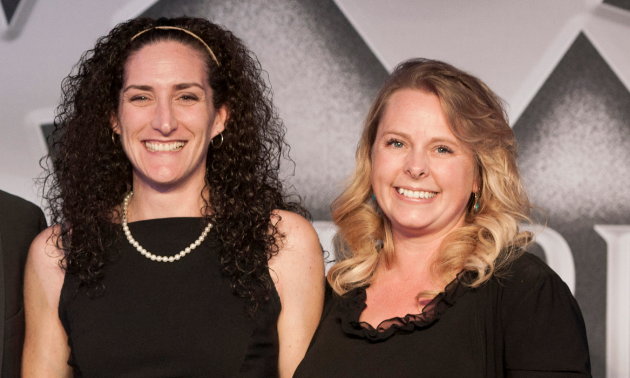 The acquisition of PropertyGuys.com by the dynamic duo of Lisa Christopher and Amber Biberdorf has given balance and choice in the Kootenay housing market. With their aid and expertise, clients have been able to retain much more money in the overall sale. The duo's work has created a steady supply of satisfied sellers.
The nominator of Christopher and Biberdorf said, "Committed to providing clients outstanding service, with a product that provides an alternative option to the current real estate model, Amber and Lisa continue growing their company and help bring focus to the East Kootenay region."
Lisa Christopher answered questions on behalf of herself and Amber Biberdorf.
How did you come to choose this line of work?
We've always had an interest in real estate, with Lisa having a background as a Real Estate Paralegal, and Amber having put herself through university by flipping houses. When the opportunity came up to purchase the East Kootenay PropertyGuys.com franchise in 2014, it just made sense for both of us. The corporate culture stands for everything we believe in. It gives us the opportunity to do what we love, do our part to help change an industry that needs changing and help our clients keep their hard-earned dollars where they belong, in their pockets!
What is it about your work that has you excited to get out of bed in the morning?
I love the flexibility of owning my own business. It allows me to spend more quality time with my family, engage in the community for causes that are close to my heart and meet new people. Every day is different and stimulating in its own way.
Where do you like to spend your downtime in the Kootenays?
Most of our down time is spent in the Elk Valley, as we are very fortunate to live there. Fernie, in particular, has excellent family-friendly events all year-round. Wasa Lake and Kootenay Lake are also top of the list.
What has motivated you throughout your business journey?
Initially, the excitement of being a business owner was all I needed to motivate myself. However as time goes by and challenges arise, I tend to lean on fellow franchisees and entrepreneurs to help keep the motivation going. A big part of motivating myself is remembering WHY I started this crazy journey to begin with. And the answer to that question is because I needed to do something that I felt passionate about and made a difference in my community. PropertyGuys.com checked both of those boxes for me.
What makes the Kootenays attractive to an entrepreneur?
Between the two of us, Amber and I have lived all over this country as well as outside of the country. The Kootenays are unlike anywhere else I've lived. There is such an intense concentration of entrepreneurial people throughout the area. We just seem to be drawn here. The communities are creative and open-minded. You can create any type of business and find an audience here or live here and find your audience online. There's truly no limit to the possibilities, not to mention all the provincial support for small businesses and initiatives from the CBT, EK Employment and Community Futures. There is genuine recognition of the role that small business plays in the local economy.
What trends have you observed in your community that might impact the local economy in the next five years?
I've noticed that there seem to be more people "coming home" to the Kootenays whether by choice or by chance. I think that will create a more stable economy and most likely more small businesses to fill in where there are gaps. My generation tends to find a need and create a business to fill that need while also creating a job for themselves that might not otherwise exist. I believe that will have a positive impact on growth throughout the Kootenays.
I also see the recognition that while our communities are very resource-driven, there is a need and want to expand into other industries to stabilize and diversify.
Did we miss anyone? Meanwhile, if you think we missed someone who should have been nominated, we'd be happy to consider them for inclusion on next year's list. Click here to nominate your pick for the 2018 40 under 40 list.
2016 40 Under 40 List See who made the 40 Under 40 list in 2016.