Lindsay Reynolds
This sister has established a stellar spa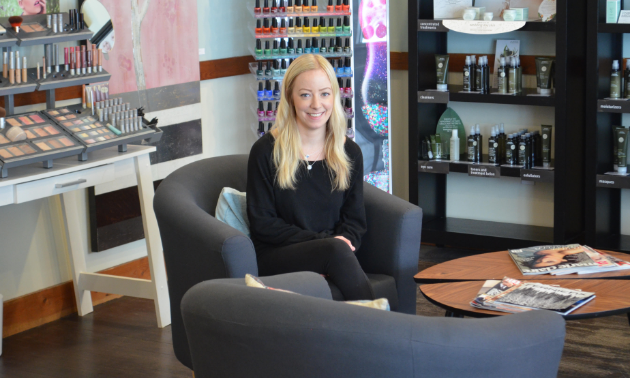 A lot of people make Fernie their destination to dive into powder, but there's a large contingent of that group that seek out the East Kootenay city to be pampered. Since 2014, Lindsay Reynolds, owner of Three Sisters Day Spa, has been delighting locals and tourists alike with superb amenities and soothing services. Three Sisters Day Spa offers a full range of esthetic, spa and massage therapy services, all incorporated around the use of Aveda skin care, body care and makeup products.
One of Reynolds' nominators said, "Lindsay is known for her unbelievable customer service, amazing products and staying on trend with beauty products and services—she is one of the first to offer micro-blade brows and lash extensions in town."
Reynolds shared her thoughts about how young entrepreneurs can make it in the Kootenays.
What qualities does a successful business person need in today's world?
We need to be open-minded and have a strong determination to succeed. Have a passion for what you do every day and keep a creative mind to build and grow your business in new ways. Accept advice from others and move forward with new thoughts and ideas.
Finish this sentence: Entrepreneurs need a lot more ____.
Connections! Creating relationships with fellow entrepreneurs has given me so much insight into the world of business and keeps me connected within the community. I enjoy taking feedback to grow my business while sharing ideas and learning from others. It's a great feeling being able to work together and build new relationships.
What's a common myth or misconception about entrepreneurship?
That it is always a one-person show. I have an amazing team of ladies that I work with each day. Without their skills and hard work within the business, Three Sisters Day Spa would not be where it is today. Accepting a helping hand and learning from my staff has grown our spa into a thriving small business.
What makes the Kootenays attractive to an entrepreneur?
The Kootenays hold so much beauty, adventure and opportunity. It keeps residents and tourists travelling through these areas year round. This is great for businesses and keeps our small towns flourishing. For us at Three Sisters, we are able to maintain a great local clientele, but each year we also see a growing number of tourists and weekenders coming through our doors. There are many business opportunities in our community that have so much to offer.
What trends have you observed in your community that might impact the local economy in the next five years?
I have seen quite a few businesses open and expand in Fernie. We have a great number of successful businesses that will drive more people to visit Fernie and, in turn, some may stay long term. I am seeing less of a shoulder season in Fernie. We have become such a sought after wedding destination and, of course, the place to be for powder skiing and outdoor mountain adventure. I think Fernie will continue to be "the place to be" for so many, any month of the year, which is great for our local economy!