Kristie Norquay
Mixing yoga and physiotherapy has formulated two successful business practices for this entrepreneur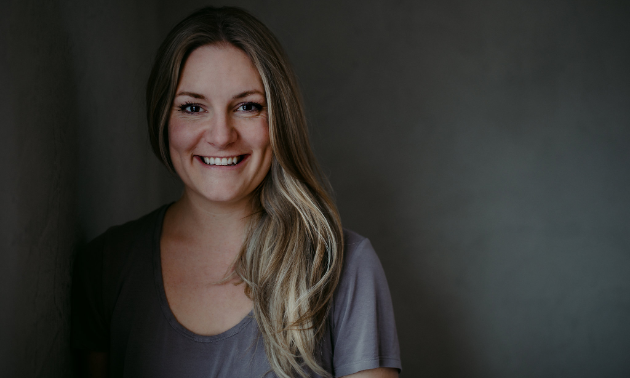 What do you get when you combine a yoga teacher with a physiotherapist? Kristie Norquay: yoga therapist.
Norquay is a physiotherapist at Element Therapeutics and the owner of Golden Lotus Yoga Studio where she is a yoga teacher and therapist. The blend of physiotherapy and yoga sparked her interest in Yoga Therapy. Norquay takes a holistic approach to her clients' wellness, integrating the philosophy of yoga into her physiotherapy practice. She looks at injuries or illnesses in the context of an individual's life and believes there is a connection between everything within us and around us.
One of Norquay's nominators said, "Kristie strives to create a multidisciplinary clinic and enriches the community with her knowledge, skill and drive."
Norquay shared her thoughts about how young entrepreneurs can make it in the Kootenays.
What qualities does a successful business person need in today's world?
Adaptability, presence, humility. Sometimes we need to turn on a dime. Sometimes we are bang on and need to keep doing what we are doing. Being present to see the need for changes and shifts is super important. Luckily, I own a yoga studio. Attending classes gives me a ton of information and feedback. I love talking to the yoga students, hearing what they have to say and making adjustments as necessary. Listening and being humble enough to hear feedback is super important.
Finish this sentence: Entrepreneurs need a lot more ____.
Wine! Just kidding. Sleep, free time, inspiration and self-care. Feeling healthy and sane is a great place to start a business from. I know it sounds funny and obvious, but it's really easy to get carried away in everything that needs to get done, run yourself ragged, and work non-stop. There is a lot of time attending to everyone else such as staff and customers. But you are your business. If you are happy and healthy, your business will be too.
What's a common myth or misconception about entrepreneurship?
A common myth about business in general is that it has to be done a certain way, especially within a specific industry. Thinking outside the box, dreaming big and shaking things up can create huge growth and also keep "work" fun, exciting and inspiring for everyone involved.
What makes the Kootenays attractive to an entrepreneur?
Golden has a lot of motivated, positive and active people, which means the possibilities for our tiny town are endless. There is a fabulous way of living here—a great work/play balance. People are wonderful, open, friendly and receptive. You get to know your customers personally in a small town. Those relationships are important and rewarding.
What trends have you observed in your community that might impact the local economy in the next five years?
There is a sense of excitement and growth in Golden. Things are changing. The small town mentality is expanding. People are keen for new and improved services. Businesses are upgrading and improving their presence: physically with their external appearance and with the services and products that are offered. There are a number of young entrepreneurs bringing a fresh new attitude to our local economy and that feels really good.