Kris Koop, Castlegar's critter champion
Kris Koop observes, listens to and loves the companion creatures that he serves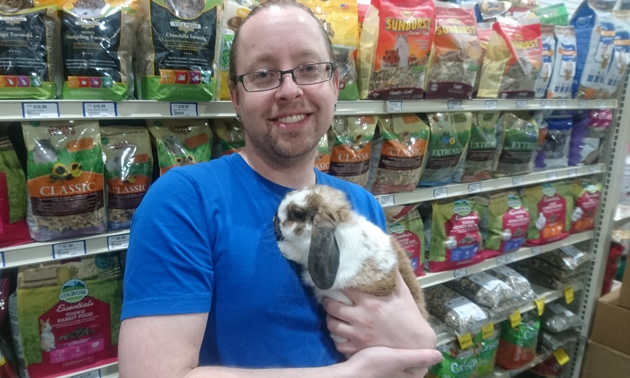 Kris Koop said that his earliest memories are of collecting eggs from the henhouse, and that he's worked with pets and animals all his life. He opened the Blue Barn Pet & Hobby Farm in Castlegar in 2016. We figure his name is a good one for a person who works with chickens, bunnies and other small critters.
Koop gave us some insight into his work and his motivation by answering a few questions.
How did you come to choose this line of work?
It is natural for me to be in the pet industry—pets have been a passion of mine forever. I have worked in a pet store since age 20, and started Blue Barn in 2016.
What is it about your work that has you excited to get out of bed in the morning?
There is so much to know about pets and farm animals, so I'm still always learning about what I do every day. It's exciting to be able to help people with their pets. Pets are a huge part of people's lives, so there's a high level of care given to the products and services we provide. It's important to listen to what's wanted and needed and be able to deliver it most times.
Where do you like to spend your downtime in the Kootenays?
I don't have a lot of downtime these days as we're still a new and growing business. Tim Hortons drive-thru?
What has motivated you throughout your entrepreneurial/business journey?
An American corporate take-over at my previous place of employment was very motivating for me—I didn't want all my years of hard work and experience to be wasted. I don't settle for "It is what it is." There is always a way to be and do better.
What makes the Kootenays attractive to an entrepreneur?
Wow! People here have been super supportive and really do want to support local people and businesses.
What trends have you noticed in your community that might impact the local economy in the next five years?
The biggest trend is more and more people buying online. Focus on local, and providing great customer service and a unique shopping experience can help to build the local economy.
Did we miss anyone? Meanwhile, if you think we missed someone who should have been nominated, we'd be happy to consider them for inclusion on next year's list. Click here to nominate your pick for the 2018 40 under 40 list.
2016 40 Under 40 List See who made the 40 Under 40 list in 2016.