Kayla Sebastian
The owner/chef of this Grand Forks bistro has a ton of community support—and for good reason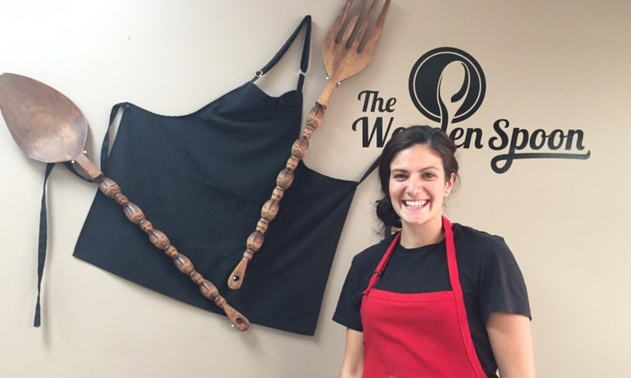 Most of our 40 under 40 entrepreneurs were nominated by one or two people, but Kayla Sebastian in Grand Forks was nominated by no less than 42 extremely satisfied customers who (no exaggeration) rave about the quality of the food and the customer service alike at The Wooden Spoon Bistro.
Mind you, this doesn't come as too much of a surprise, since The Wooden Spoon Bistro won an impressive seven awards in the 2015 Best of Business Awards sponsored by Kootenay Business magazine.
Biatta Novokshonoff calls The Wooden Spoon "the best bistro in town. Kayla has fantastic customer service. Her food is to die for and the building is inviting and has a welcoming environment."
Wendy Butterfield agrees. "She (Kayla) runs the best restaurant in Grand Forks and she makes the best food I have ever tasted, " Butterfield said.
A number of the nominators liked that Sebastian emphasizes fresh, healthy choices on her menu and that she strives to use locally grown produce as much as possible.
Other nominators praised Sebastian's community spirit and business ethics. One nominator described Sebastian as "innovative, determined, forward-thinking and community-oriented." Another called her "an incredible employer and community member, contributing to community events and fundraising for important causes."
Several said that The Wooden Spoon is the "go-to" spot and the "must-stop" place on Highway 3 (soon to move to a larger downtown location on Market Avenue).Well, I'm convinced and I fully intend to stop for a bite (or three) next time I'm in Grand Forks.
Here are Kayla Sebastian's answers to our questions.
How did you come to choose this line of work?
I love the creativity. I've had a ton of jobs, but nothing quite seemed to keep me interested. With food, you're never bored. Plus, who doesn't love working ridiculous hours and on holidays and weekends?!
What is it about your work that has you excited to get out of bed in the morning?
My customers, my staff, and knowing that each and every person that walks through our door is always appreciative of the work, effort and love we put into each dish. Seeing people get together, laugh and enjoy each other's company over things we've created is truly rewarding. That's what food should be about.
What's your focus for 2016?
We are expanding. Soon we'll be opening a new, bigger spot down on Market Avenue. My focus is always seasonal, changing menus, sourcing local, and keeping things fun and exciting. We're really excited about bringing some life to our new Market Avenue building, which has been empty for a few years.
Why did you decide to become an entrepreneur in the Kootenays?
I'm a Kootenay girl! I moved with my family to Grand Forks when I was five, and after high school I moved away and tried several different careers. I ended up going to culinary school, then moving to Australia for two years and working in some of the most amazing places. Nine years later I brought what I love to do back to my hometown—it's paid off for me and all the locals that appreciate great food.
More comments from the nominators:
"Kayla Sebastian is a rising star for her hard work and dedication as a young entrepreneur. She started her little bistro two-and-a-half years ago with a determination to build something different for the people of Grand Forks that had healthy food and a bit of a different twist than the norm. She continues every day to bring fresh things and new ideas to her menu. She also caters to many functions in the community as well as donating her time and food for charity events. Most days going for lunch is standing-room-only. She has done a great job adding a new fresh business to our little town. Kudos to you, Kayla Sebastian. Keep up the great work!"—Robin Hartwick
"Her ambition and drive have already made her a prosperous pillar of our small community. The food and atmosphere at the Spoon are unreachable in comparison to other like businesses."—Riley Friesen
"Kayla and her business are the rising stars of the Kootenays because this young lady knows how to get it all done—and done right. She has worked her little butt off to put herself through culinary school and has learned and cooked at one of the best hotels in Perth (Australia). She really gives her all in what she does. I wish her all the best and success in the years ahead."—Karen Cummings
"Kayla works tirelessly to create a restaurant with a high quality and delicious menu, wonderful and welcoming atmosphere and great workspace for her employees. Even being someone who travels regularly through many small towns in B.C., it is hard to think of a spot that makes me feel more at home. You can see that the pride Kayla takes in her business is reflected through her staff and her food."—Billy Brown
"Kayla started The Wooden Spoon in a little location and in only a few years has grown it into a successful bistro (the No. 2 ranked restaurant in Grand Forks on TripAdvisor where the No. 1 is a business in Christina Lake, not Grand Forks, with 59 very positive reviews) and an immensely successful catering business. Kayla is only 28 years old and her bistro is moving into a much larger venue to accommodate increasing demands. People who visit Grand Forks are blown away by the food quality."—Mary Butterfield
"(The Wooden Spoon Bistro offers) healthy, fresh, tasty food with amazingly friendly staff that always go beyond your requests to ensure your experience is as yummy as possible—the only place where I thoroughly enjoy eating out in the Kootenays!"—Christine Van Boeyen
"Kayla is a rising star because she is helping showcase the community and its agriculture with a delicious, innovative menu that often includes local, seasonal foods . . . Kayla is creating excitement in an under-discovered town in the Kootenays . . . This young leader is adding a new energy to Grand Forks."—Monica Phillips